Managing Habitats so Native Plants Thrive
Feb. 28 through March 6 is Invasive Species Awareness Week
There are four things you can do to combat the spread of invasive plants.
Visitors to Florida's state parks enjoy camping, hiking, swimming and other activities. Their adventures create lasting memories with family and friends. The backdrop is Florida's natural environment and famous sunshine.
Park rangers, biologists and volunteers work hard to ensure that the natural habitats at our state parks represent the best of Florida. Biologists identify invasive plants and develop plans to remove them from the state parks.
To be considered an invasive species, a species must:
Be nonnative to a specified geographic area.
Be introduced by humans (intentionally or unintentionally).
Cause environmental or economic harm.
Staff and volunteers at Florida's state parks have three methods for addressing invasive plant species: hand removal, mechanical treatment or herbicides. If we manage the first two tactics sufficiently, we can greatly reduce the need for the third one.
About Coral Ardisia
Coral ardisia (Ardisia crenata) is an ornamental plant that has invaded woodlands statewide. This shrub with red berries spreads quickly. When ripe, the berries drop to the ground, where they quickly produce seedlings and more shrubs. Additionally, birds readily eat the berries and spread the seeds.
Coral ardisia grows tall enough to shade out native seedlings and understory plants, preventing their growth and disrupting the native plant community. Coral ardisia blocks the sunlight from the plants that need it.
Coral ardisia grows in large colonies. Removing the shrub is hard work. Park rangers, biologists and volunteers hand-pull the plants to prevent berries from spreading. The plants are placed in large black bags that block the sunlight so they decompose without spreading.
The Florida Conservation Corps has Project ANT (AmeriCorps Nonnative Plant Terminators) members who focus on habitat restoration by removing invasive plants from natural ecosystems. They recruit volunteers and inform park visitors about issues of invasive exotic plants in natural ecosystems.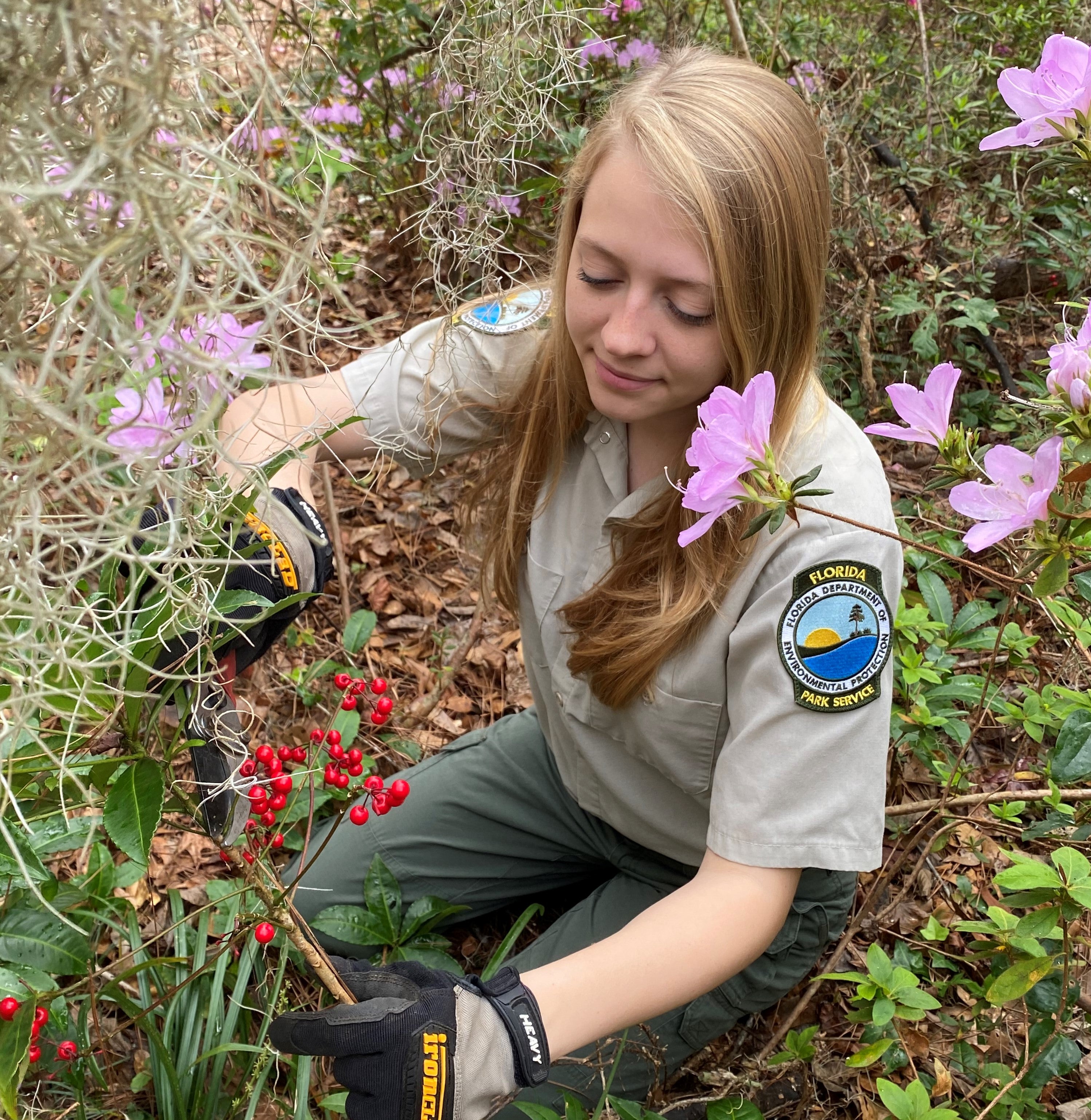 How You Can Help
There are four actions you can take to help reduce the spread of invasive plants.
Decontaminate your equipment. Boats, canoes, kayaks, bicycles, tents and hiking shoes can be potential carriers of seeds of invasive plants. Be sure to clean your equipment and contain the dirt and debris that you remove. Firewood can also carry invasive species. Be sure to buy that at the park where you are camping. Learn more at Play Clean Go.
Remove invasive plants from your yard. Learn more about the Florida-Friendly Landscaping program.
Volunteer to help survey natural areas to identify locations where invasive species are known to grow. Inquire at any state park ranger station about how you can help.
Volunteer to help with hand-removal events. Many state parks host special events where volunteers can help with removing invasive species. Popular events include air potato roundups. Find an event near you.
When we work to protect our natural environment, we ensure that visitors will continue to have natural places and opportunities for outdoor recreation.
Learn More