Florida Park Service Teams Help Fight Panhandle Wildfire
During the spring and summer months, news reports of wildland fires raging somewhere in the nation are common.
These fires sometimes happen deep in national forests or out in remote ranch lands. Wildland fires can also, unfortunately, occur near homes and businesses. When this happens, wildland firefighters must face an increasingly common scenario called a wildland-urban interface fire.   
Florida State Parks can experience wildland fire both in remote areas and in the wildland-urban interface. Highly trained staff with the Florida Park Service (FPS) use prescribed fire to improve habitat and reduce wildfire risk, but they're also prepared to fight wildland fire. Sometimes, state park staff are called upon by the Florida Forest Service (FFS) to fight fire both within and outside of state parks.  
There are high expectations for these Florida Park Service staff during wildfire season. They're trained for wildfire response and sometimes requested to form wildfire strike teams. Strike teams consist of four wildland fire engines each staffed with two firefighters, and a designated strike team leader. These teams can respond to a wildfire at the drop of a hat, traveling from various parks across the state to meet up and fight the wildfire.
During the typically dry Florida springtime, FFS often reaches out to partner agencies to assist with wildfire suppression response on public and private lands. Until early May of this year, it had been more than two years since FPS wildfire strike teams deployed.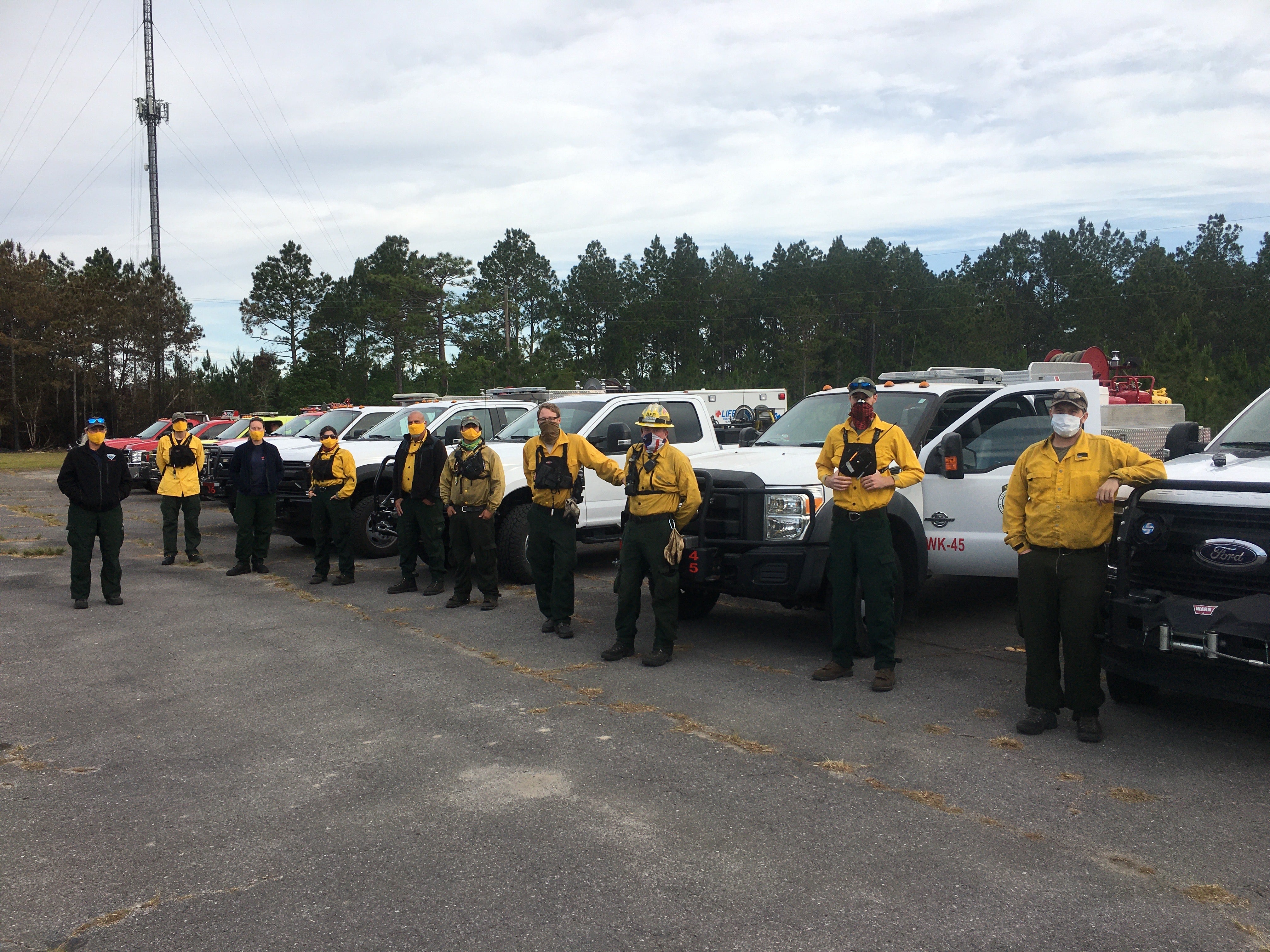 The Florida Park Service's Fire Management Coordinator Sasha Ernst is tasked with readying these strike teams and supporting them behind the scenes. In early May, the Florida Park Service responded to the FFS' call for assistance with multiple wildfires raging in the Panhandle. Readying wildfire strike teams is a logistically demanding task. Directing multiple wildland fire engine crews, handling repairs and ensuring the safety of strike team staff all require careful preparation, cooperation and quick thinking.  
Within 24 hours of the call for assistance, FPS fire engine crews were deployed to the Five Mile Swamp Fire in Santa Rosa County. The fire burned portions of Yellow Marsh River Preserve State Park and grew to over 2,000 acres. The fire began as a prescribed burn on private property but escaped and crossed Interstate 10, forcing a two-day shutdown of the road. It was estimated that 1,100 homes were evacuated, with a total of 27 buildings destroyed.
These FPS staff members from parks all over the state responded to the Five Mile Swamp Fire:  
Ashley Orlando, Dunns Creek State Park
Greg Tompkins, Anastasia State Park 
Emily Reyes, Wekiwa Springs State Park 
Mark Stevenson, St. Marks River Preserve State Park 
Meghan Harris, Pumpkin Hill Preserve State Park 
Brian Law, District 2 Fire Team 
Corey Whiddon, DeLeon Springs State Park 
Geraldo Maldonado, Lake Louisa State Park 
Conner O'Brien, Silver Springs State Park 
Wade Smith, Bald Point State Park 
We're grateful for the strike team members' service in responding to a dangerous fire, and thankful they all returned home safely. They worked long shifts for days on end to ensure that the fire would not restart, providing a safe environment for residents to return to their homes. Returning to their parks, they have a greater understanding of fire management that can benefit wildfire response and safety in their own communities.  
How Florida State Parks use prescribed fire to reduce wildfire risk