Florida Conservation Corps Helps with Hurricane Recovery
The 2020 hurricane was extremely active for the states bordering the Gulf of Mexico.
Hurricanes Laura, Sally and Zeta took aim at Louisiana, Alabama and Florida.
The 2020 hurricane season was the most active on record since 2005, but thankfully the AmeriCorps Disaster Response Team (A-DRT) is here to help!
Two teams from the Florida Conservation Corps (FLCC), an AmeriCorps program that works within Florida State Parks, were recently deployed to Pensacola to assist with recovery efforts after Hurricane Sally blew through the city. Part of A-DRT, these members volunteered their time and energy to help those in need after the storm. The teams were joined by people from other states who also helped homeowners deal with damage from the hurricane. The first team of seven FLCC members and two Parks staff members was deployed from Nov. 4 to Nov. 14, while a second team of seven was deployed between Nov. 13 and Nov. 22. A third team will return to the area in December. 
The first team completed seven work orders, helping residents with emergency repairs to their homes and properties. The team used tarps to patch five roofs, and they removed 135 cubic yards of debris and four fallen trees - including one that had been deemed hazardous. The work was demanding but fulfilling, requiring long days of physical labor to achieve the team's goals. At the end of each day, there was both exhaustion and excitement for what the next day would bring.  
"The deployment was very rewarding," said Katie Wojcicki, a member of Project R.O.A.R. (Regional Outreach and Awareness Recruiters), which interprets natural cultural resources while recruiting volunteers for the parks and the program. "We were able to help out several people affected by Hurricane Sally. We spent weeks tarping roofs and removing both vegetative and non vegetative debris from their property. It was nice to know we made a positive impact on people's lives."
The second team completed three work orders. At one site, the team removed a huge water oak that fell, narrowly missing two homes. The job took almost four days to complete because the tree was so big. They also put a tarp on a home where the roof was damaged by a tree falling on it and crushing the rafters. The tarp is a temporary fix until the homeowner can arrange for repairs.
"What we did was hard work and long days in humid Florida," said Carissa Stepp, a member of the A-DRT team, "but the people were always so nice and so appreciative. It was one of the most rewarding experiences I've had at FLCC."
We extend our appreciation to these Florida Conservation Corps members for their dedication to service and the people of Florida. They are shining examples of the values and dedication we strive for in the Florida Park Service. We also appreciate the AmeriCorps St. Louis team for organizing all the different teams who came to help.
FLCC Members Help with Hurricane Recovery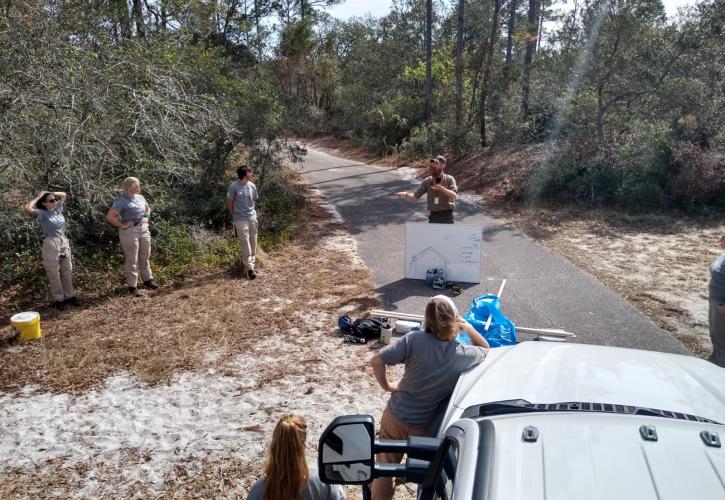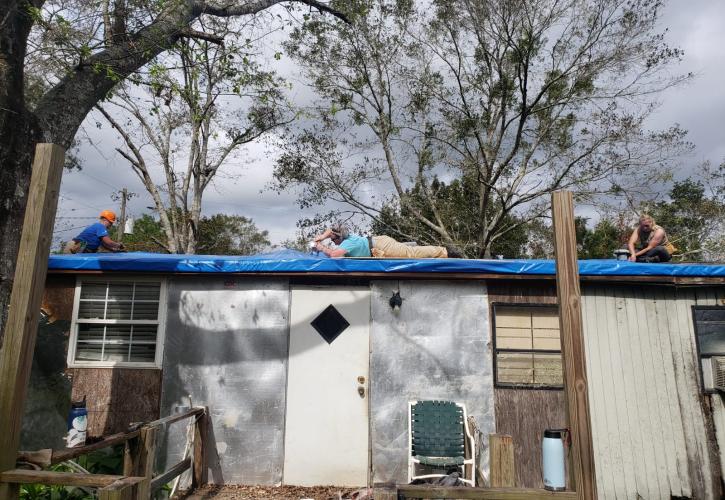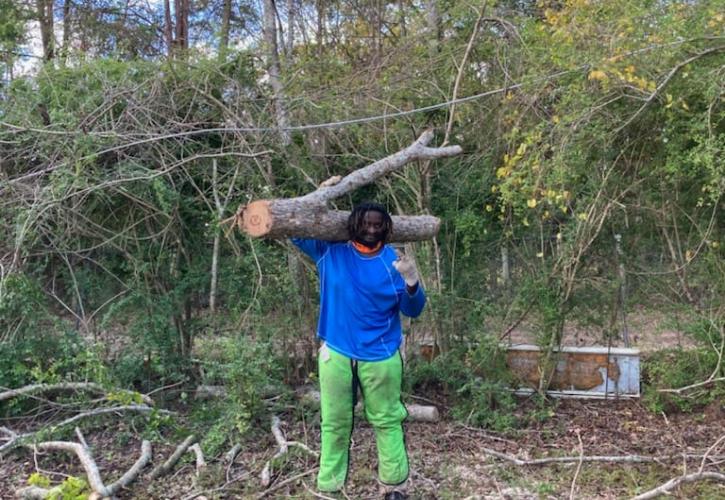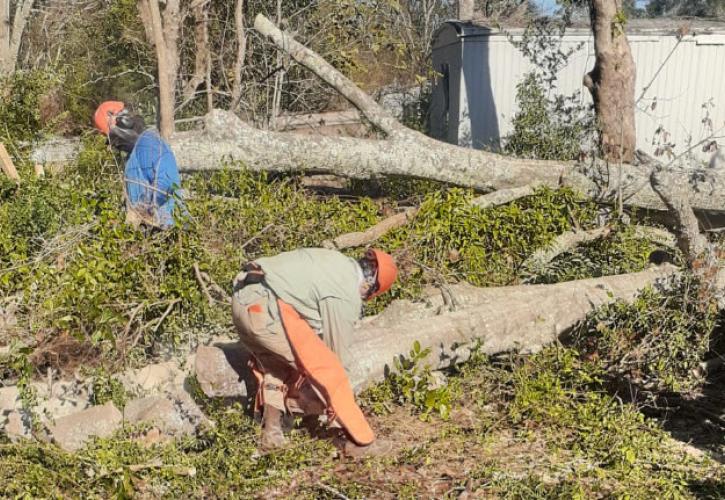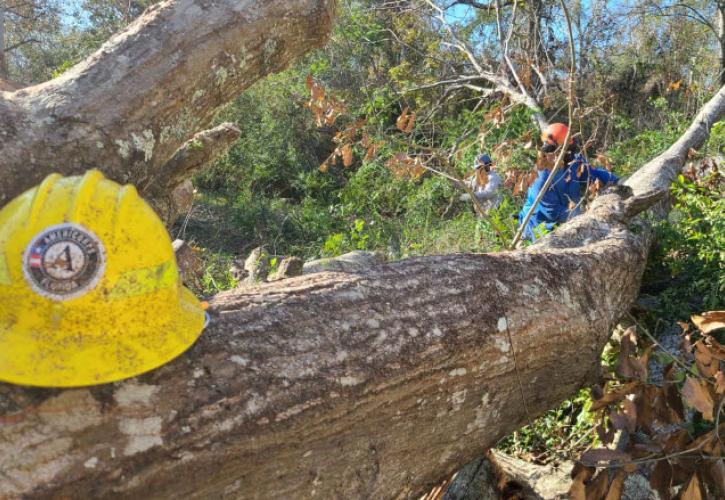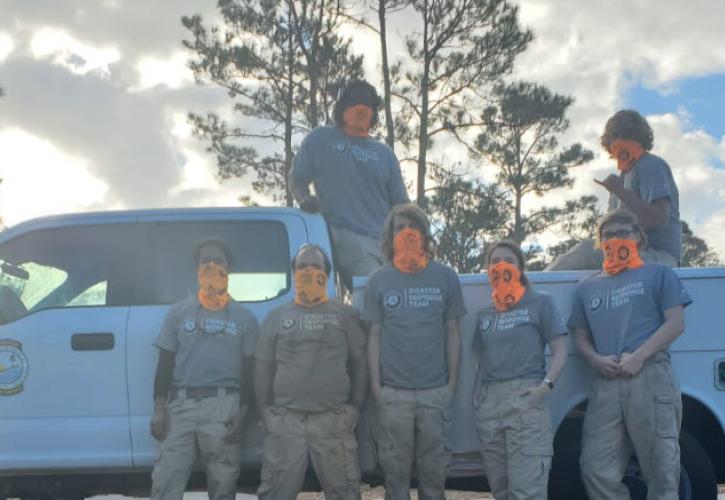 About the Florida Conservation Corps
The Florida Conservation Corps is part of the Florida Park Service that operates under the AmeriCorps National Service Program. This program is divided into three project areas:
Project A.N.T. (AmeriCorps Non-native plant Terminators), who are assigned to individual parks to help eradicate invasive species that threaten native plants.
Project R.O.A.R. (Regional Outreach and Awareness Recruiters), which interprets natural cultural resources while recruiting volunteers for the parks and the program.
Project T.R.E.C. (Trail Restoration and Enhancement Corps), a traveling team that builds, maintains and repairs trails in parks across the state.
The Florida Conservation Corps provides hands-on service learning opportunities designed to develop leaders in the fields of land management, cultural preservation, resource-based recreation and park facility management. Past and present members often cite their service term as the experience that helped them develop the confidence, knowledge and abilities necessary to conserve and interpret natural and cultural resources in balance with the use and enjoyment by the public.
Joining the FLCC is a great way to start a career in natural resources, serve the community or simply get out in nature.
Members agree to serve for 1,700 hours between February and December for the Florida Conservation Corps. During that year, they gain hands-on experience and training in the areas of natural resource restoration, interpretation, and volunteer recruitment and management. In exchange, they receive a monthly living allowance, eligibility for health insurance coverage, childcare assistance and student loan forbearance options.
Upon completion of their term of service, members also receive a Segal AmeriCorps Education Award.
Are you interested in joining the Florida Conservation Corps?
It's time to apply for the 2021 program year! Applications are available on People First and will be open through January 2021.
You can also apply via the AmeriCorps website:
For more information, contact Lauren.T.Natwick@FloridaDEP.gov or email FLCC@FloridaDEP.gov.
---
This article was published in the Real Florida ℠ Connection, the Florida State Parks e-newsletter. Sign-up to get updates and stories from your state parks the first week of every month.