Defeating the Evil Weevil and Saving the Cowhorn Orchid
Hello. I'm Mike Owen. I've had the great fortune to be the park biologist of the Fakahatchee Strand Preserve State Park for 26 of its 4,500 years. Fakahatchee, or what I like to call Florida's Amazon, is located 30 miles east of Naples in Southwest Florida. While we have many projects aimed at preserving the park's integrity, I'd like to tell you about two of them. But first, a brief introduction.
The park is vast, at 85,000 acres. Fakahatchee Strand is the largest unit in Florida's system of 175 state parks. It represents the largest strand swamp community in the world. The park's limestone valley is filled with a layer of 2- to 5-feet-thick organic muck, which creates a thermos, insulating life from extreme temperatures, high and low. The muck also creates refuge for more tropical plants than any other spot in Florida, including orchids (49 native species), royal palm trees (7,000-9,000 trees), bromeliads (14 species), ferns (38 species) and five native endangered species of peperomia, a group of small, perennial epiphytes that grow on rotten wood.
The park also serves as home for five species of wide-ranging mammals: the Florida panther, Florida black bear, Everglades mink, bobcat and the river otter.
But to me, the Fakahatchee Strand is a living being. It breathes water, inhaling up to 6 feet of rain in the wet months from May to October. It slowly exhales from November to April, when the disappearing water reveals the upper layer of organic sponge created by centuries of fallen leaves.
While robust, it is also delicate. Invasive species can lead to rapid and irreversible damage. One of those recent invaders was the Mexican bromeliad weevil (metamasius callizona), which came upon Fakahatchee to discover a smorgasbord of once ubiquitous, now endangered, giant airplants (tillandsia utriculata).
The Evil Weevil and the Giant Airplant
Collaboration can lead to early problem identification. During a swamp walk in the year 2000, I asked Howard Frank, Ph.D. entomologist, why he was tugging on the leaves of giant airplants. With sophisticated British tone, he replied, "If the leaf pulls out easily, the Mexican bromeliad weevil has arrived." He explained to us that in the larval stage, the Mexican bromeliad weevil feeds on the base of the leaves of the larger species of tank bromeliads such as the giant airplant, which kills the plant.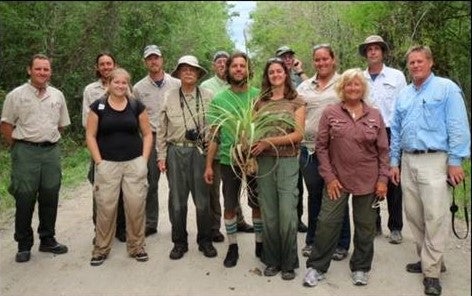 Dr. Frank published a paper documenting 26 species of arthropods living in the tanks at the base of the overlapping leaves of both giant airplants and cardinal airplants (Tillandsia fasciculata). This fact led to the tank bromeliads, which hold water during the wet season, being described as "biodiversity amplifiers." The weevil had already arrived in other parts of Florida, but thankfully, it was not here … at least not yet.
We immediately began collecting baseline data on our giant airplants. Monitoring followed. All was well, until March 2008. In the extreme northern boundary of the park, just south of I-75, we saw firsthand the destruction caused by the invasive predator with no natural enemies of its own.
The weevil was moving southward, unchecked by any native species. The toll on the giant airplant was devastating. In one site, the population crashed from 30 to three in one year. Worse, with plenty of food, the weevils were thriving. The problem was growing exponentially.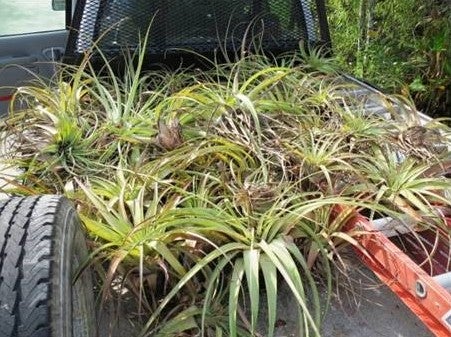 A year later we introduced a natural predator, aptly named lixadmontia frankii, a weevil eating fly. Unfortunately, the damage continued. Finally, after documenting a 90% decline in giant airplant numbers within the Fakahatchee Strand, we were forced to intervene.
After securing a permit from the Florida Department of Agriculture and Consumer Services, we found asylum for 140 giant airplants, half going to Marie Selby Botanical Gardens in Sarasota and the other half going to Naples Botanical Garden.
Without food, the weevils waned. I am thankful to report that those giant airplants have returned to their home, bringing with them over 2 million seeds which, without this collaboration, would have never been produced.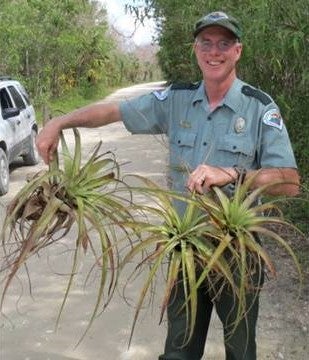 The Perils of Poaching and the Cowhorn Orchid
This story should start at its end. The cowhorn orchid (cyrtopodium punctatum) is not extinct. But its existence is in no part due to its charismatic appearance. When first I laid eyes on the cowhorn orchid in 1994, I was convinced it was a palm tree, not an orchid. Flower spikes bordering on 3 feet long can produce so many flowers it resembles a swarm of bees, and capable of living longer than humans, it attracted poachers of all kinds. Poachers were once common, especially before 1974, the year Fakahatchee became a preserve. Fortunately, Fakahatchee is large, and for many, treacherously foreboding.
In 1996, I knew of only two cowhorn orchids in the wild of the Fakahatchee. By 2007, our explorations had brought the count up to 17. But still, too few for safety. They were losing the opportunity for genetic diversity. We needed to intervene.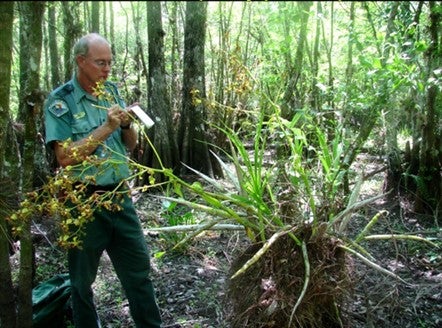 Matt Richards of Atlanta Botanical Gardens, knowing the reputation of Fakahatchee as the orchid capital of the United States, asked how he could help. Only three seed pods were known to be produced by natural pollinators within the Fakahatchee Strand in the past 10 years. We needed to get him cowhorn orchid seeds, and to do this we would need to pollinate existing orchids.
It takes 12 to 13 months for the seedpod to release seeds, so measuring success requires patience. In March 2008, we found the last year's pollination attempt had failed to produce a pod. We tried again. This time, success.
In November 2008, a pod had emerged, meaning 3 million seeds would be released to the wind in March 2009. But before it burst, after securing a Florida Department of Agriculture and Consumer Services permit, we sent the pod by mail to Atlanta, where Matt extracted a trace of the seeds. We returned the pod to the mother plant.
Two years later (April 2011), Matt arrived in Fakahatchee having driven a station wagon full of 100 seedlings derived from the original pod. From 2011 to 2015, we spread the wealth (1,000 cowhorn orchid seedlings) to various parts of the preserve, helping to promote genetic diversity, vital to a thriving population.
Today, we have well over 200 cowhorn orchids awaiting their native pollinators of solitary bees.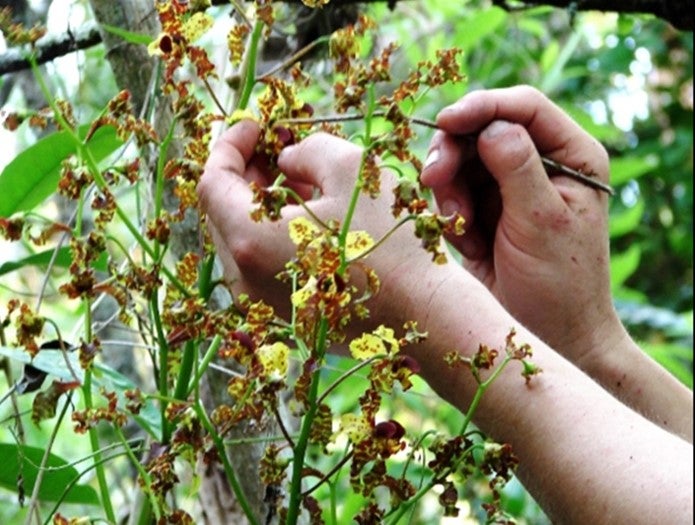 Future generations can now enjoy a unique and rare epiphyte (a plant that grows on another plant but is not parasitic) growing within the safety of the Fakahatchee Strand Preserve State Park.
These two projects demonstrate the power of collaborative partnerships, just as every living orchid in the wild is the result of collaboration between the orchid and its mycorrhizal fungi. Mycorrihizae are symbiotic relationships that form between fungi and plants. The fungi colonize the roots of a host plant, providing increased water and nutrient absorption.
Most every success in conservation is the result of collaboration between organizations and volunteers all working toward a common goal. Our common goal is included in the Florida Park Service mission statement: Provide resource-based recreation while preserving, interpreting and restoring natural and cultural resources.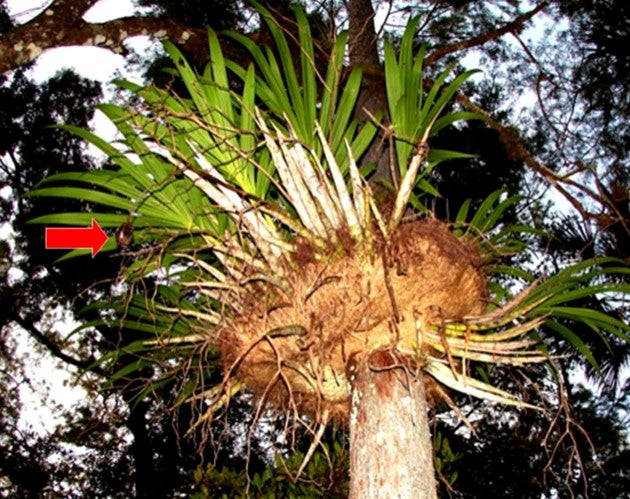 About the Authors
Mike Owen has been the park biologist at the Fakahatchee Strand Preserve State Park since 1993. His duties include hydrological monitoring, surveys for endangered or threatened plant species, herbarium collection, wildlife observations, and monitoring including road kill data, vertebrate species list, plant species list, non-native plant treatments and participation in prescribed burns. He also conducts interpretive programs involving swamp walks, guided walks and PowerPoint presentations.
He received his Bachelor of Science in Zoology at the University of South Florida in Tampa.
Mark Owen is his brother.
---
About The Biologists Tell the Story Series
In this series, we will learn a little more about our biologists, as they share stories of their work in Florida's state parks. The leadership and scientific research our biologists provide is essential for our legacy of conservation and land management. This series is an opportunity to connect these projects to the places where we ensure the health and sustainability of Florida State Parks.