Volunteer Spotlight, Meret Wilson
Meret Wilson
Meret Wilson has been a volunteer since 2004 when she set up her banding station on Helicopter Island. It has been running successfully for 15 years documenting 89 different species banded, studied and photographed before release. Some have been resident birds but her primary focus has been on the migratory species that briefly pass through the park, in the fall on their way to their wintering grounds. The rest pass through in the spring on their way to their breeding grounds.
Meret started out as a Medical Technologist with a BS from West Virginia University. She practiced her profession for 40 years.
Along the way, she developed a passion (obsession) for birds and figured out how to work 40 hours as a Med Tech on the weekends and band birds five days a week.
After seven years of that schedule and growing more and more passionate about birds, she finally took full retirement to band birds, do bird surveys, and conduct two scientific studies on Myrtle Warblers and Loggerhead Shrikes.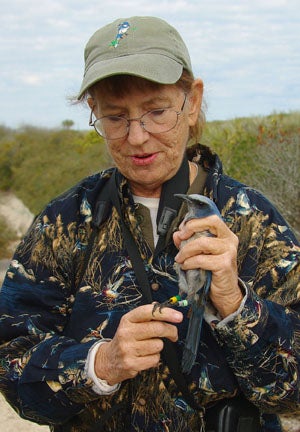 Over the years there became trends with the birds that were notable. Tomoka State Park is not on a major flyway, more females and juveniles pass through the park, weather systems greatly affect their flight patterns and evidence that habitat prime for surviving long passages affect their choice of a route.
Throughout the past couple of years, the east coast has been hit with no fewer than eight major hurricanes since the banding station was opened. The trees and vegetation have been damaged. The understory since Matthew, Irma and Marie are littered with dead debris.
Birds such as Ovenbirds, the Thrushes cannot get to their major food sources on the ground. Many many trees are still dying and falling. And the overall numbers of birds have been declining, possibly because they are choosing other routes to travel. Lastly, the weather patterns have been reluctant to release birds from their wintering grounds to even start their journey northward. That affects their stop time because they are late for selecting prime territories at home.
So what drives her to keep banding? "Never knowing what will land in a net. Every day is a new day and a new chance at a surprise! And I LOVE birds."