Florida State Parks protect natural and cultural environments. Your planning, alertness, and respect will help ensure safe visits to the parks. However, safety cannot be guaranteed when outdoors because hazards are inevitable elements in our natural environment.
To help avoid unsafe situations when visiting a park, please use common sense, and respect the natural and cultural resources while following the subsequent general guidelines.
Storm Safety
Visitor safety is paramount in the decision to close and open Florida State Parks during times of severe weather. Following established emergency action plans, parks will close under the following circumstances:
Tropical Storm Warning - All camping areas are closed and evacuated.
Hurricane Warning - All areas (overnight and day-use) are closed and evacuated.
Additionally, Florida State Parks are in constant communication with state and local emergency operations centers and may close sooner depending on conditions and location. For example, barrier islands and parks that are near major bridges may close sooner to ensure visitor safety.
Following severe weather events, the Florida Park Service works to reopen parks as quickly as possible to provide recreation for Florida's residents and visitors. State parks will be opened as quickly as visitor safety can be assured.
Please visit our homepage and the Florida State Parks' Facebook page for continuously updated information.
The 2016 Atlantic Hurricane season runs from June 1 - Nov. 30. For additional information about severe weather in Florida, and to Get a Plan, visit FloridaDisaster.org and FLGetAPlan.com. Follow the State Emergency Response Team on Twitter and Facebook.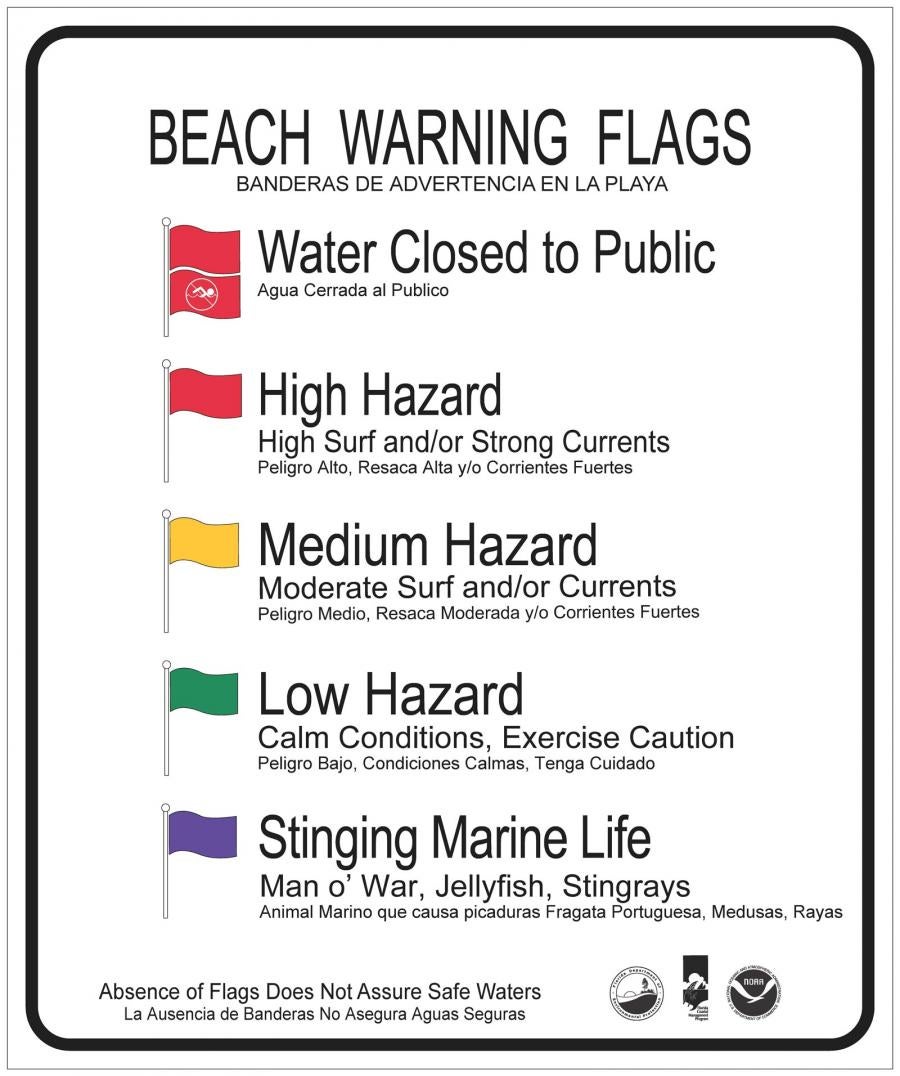 Beach Safety
Trips to the beach can be pleasant for both the visitor and the natural habitat if the right precautions are taken.
Be aware of the sun exposure that occurs when at the beach, and wear the proper amount of sunscreen.
Do not walk on the sand dunes.
Do not feed the wildlife.
Be aware of potential hazards before entering the ocean. Beaches will fly warning flags indicating particular hazards. Please refer to the following attachment for an index of these warning flags: Beach Warning Flag Index
Be aware of rip tides. Because they are such a relevant hazard on many areas of the beach, please be sure to avoid them if possible, and follow this set of guidelines if caught in one: How to Escape a Rip Current
The beach is not only a recreational site, it is a habitat for wildlife. If you happen upon any wildlife, especially a sea turtle nest, do not disturb it.
Water Safety
In many state parks there are designated boating areas for visitors. Please stay within the perimeter of these designated boating areas, and adhere to the following boating safety requirements. Please see the desired individual park page for any further information about boating safety regulations.
Please use common sense when operating a boating vessel. Be cautious of wildlife or other visitors around the vessel, and adhere to the designated speed limits.
Take precaution when using the boat ramp. Be courteous to other boaters, and be aware of any hazards that could cause an injury.
Do not consume alcohol while operating a boat.
All individuals must wear a life jacket while aboard a boating vessel.
Jet skis are permitted in designated areas only according to the individual rules of each park.
Park Safety
The goal of the Florida Park Service is to provide recreational activities while preserving the natural habitat of the parks. In consideration of your safety and the safety of the natural habitat, please do not disturb wildlife.
Hiking: Make sure that you prepare well, bring all the necessary supplies, and know what to do if any medical emergency occurs during your hike.
Cycling: Be reasonable with your speed, be observant and aware of your surroundings, and please wear a helmet.
Swimming: Be cautious and swim at your own risk.
Equestrian: Please acknowledge the potential dangers of this activity and always wear a helmet.