Experiences
Bicycling
Spend the day exploring beautiful Honeymoon Island with Wheel Fun Rentals. We have pedal-powered fun for all ages with our multi-passenger Surreys and beach cruisers. Ride to your heart's content on paved trails throughout the island. 
Helmets are highly recommended for all cyclists and Florida law requires helmets for cyclists age 16 and under.
Paddling
Kayaks can be rented through the concession or, if you have your own, explore Pelican Cove which lies between the sand spit and nature trail.
Fishing
Surf and pass fishing can yield catches of flounder, snook, trout, redfish, snapper, whiting, sheepshead, pompano, Spanish mackerel, cobia, ladyfish and tarpon. 
All fishing within the park must conform to regulations concerning size, number, method of capture and season. A fishing license may be required. More information is available at the Florida Wildlife Commission's Fishing in Florida.
Hiking
Observe one of the few remaining South Florida virgin slash pine stands along the Osprey Trail, which provides visitors with approximately 2.5 miles of walking.
Picnicking
A picnic area is located on the northern end of the island. There are picnic tables, two covered pavilions, restrooms and barbecue grills.
Consumption of alcoholic beverages is prohibited, except at the restaurant in the park where alcohol is sold. Alcohol is allowed during park-sanctioned events, within designated areas only.
Surfing
Surfing is allowed in the park, and it's usually pretty good on the north end by Bathhouse 3.
Weddings
Honeymoon Island used to be a good honeymoon spot, now it's perfect for a wedding.
Wildlife Viewing
Honeymoon Island is home to many actively nesting birds including osprey, oyster catchers, snowy plovers and least terns. Roseate spoonbills, snowy egrets, great blue herons and many other species are often observed feeding in the bay, beaches and estuaries surrounding the park.
Gopher tortoises and armadillos can be found in the picnic area and along the nature trail.
Amenities
Accessible Amenities
Honeymoon Island State Park is committed to providing a variety of amenities accessible to all of our visitors.
These amenities include:
Rotary Centennial Nature Center
Elevated boardwalks to the beach.
Beach wheelchairs are available for free. Inquire at the ranger station.
Concession with food and gift store.
Picnic facilities with tables and grills.
Limitless playground at picnic area.
Parking.
Restrooms.
Service animals are welcome in all areas of Florida State Parks.
Beaches
With approximately four miles of shoreline, beach lovers will find a variety of activities with areas designated for swimming on the main beach, a pet beach on the south end, and great shelling and walking on the north end, which turns into a sand spit. Showers are located near the boardwalks leading out to the main beach areas.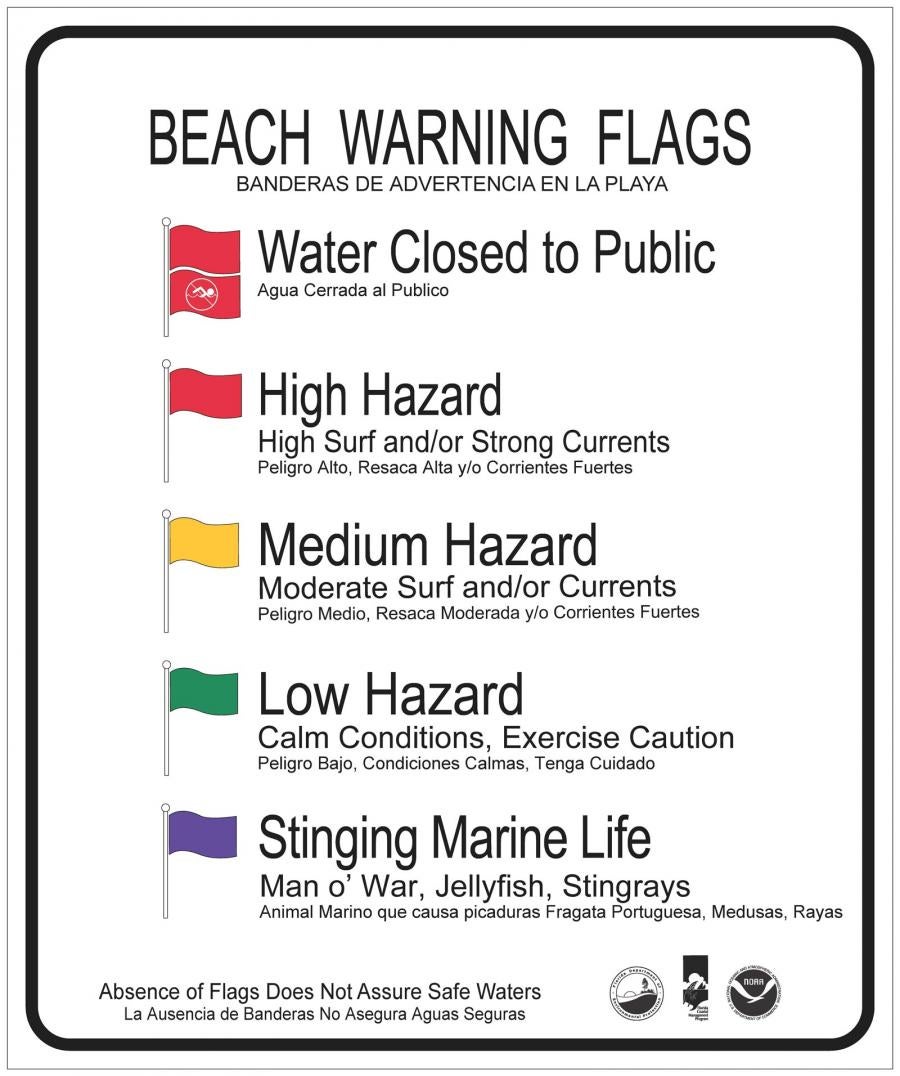 Visitors to coastal parks are reminded to pay close attention to the Warning Flag Signs posted at welcome stations and on the beaches. These flags indicate the swimming conditions at the beach:
Double red flags mean absolutely no swimming because of high winds and undertow currents
Yellow flag means swim with caution and stay close to shore
Green flag means that the waters are safe
Purple flag means that marine pests are present.
Please use caution! Lifeguards are not provided.
Concession and Restaurant
The park concession offers food, beverages, beach supplies and souvenirs. Kayaks, umbrellas and beach chairs are available for rent.
Visit Romantic Honeymoon Island or call 727-736-2132 for Cafe Honeymoon or 727-250-5506 for the Honeymoon Pavilion.
Playground
There is a Limitless playground located in the picnic area on the north end of the island.
Restroom Facilities
Restroom facilities are available in the park. Several are ADA accessible.
Interpretive Exhibit
Various interpretive kiosks are located throughout the park. The Rotary Centennial Nature Center is a great place to learn about the history of Honeymoon and Caladesi Islands as well as information on the plants and animals that can be found on the islands.
The elevated observation deck offers spectacular views, and at low tide provides many opportunities to see wading birds around the seagrass beds in the St. Joseph Sound.
Pets
Dogs are allowed in designated areas such as the pet beach on the southern tip of the island and on the nature trail. Pets must be on a 6-foot hand-held leash at all times while in these areas.
Picnic Pavilion
There are two covered picnic pavilions and grills located next to the nature trail. These pavilions may be reserved for a fee.