Description
Please be aware our cave tours may sell out, call Florida Caverns Gift Shop at 850-526-2650 to ensure availability.
We are excited to announce the electricity has been restored to the cave, one year after Hurricane Michael.  We now offer guided cave tours with a new state-of-the-art LED lighting system. The lighting system will increase the cavern's energy efficiency, while protecting the light sensitive ecosystems. Visitors are now able to see the cave formations clearly without the use of a flashlight. 
Tour guides will take you on a journey through time to see formations that have grown slowly over thousands of years and experience the wonder of the limestone cave system.
Guided cave tours are offered year-round except Thanksgiving and Christmas Day. Tours leave from the Visitor Center, beginning at 9 a.m. Central Standard Time (CST) daily. To ensure the safety of our guests, tour sizes are limited to 25 visitors per tour. 
Cave Tours are offered on a first-come first-serve basis.  
Parking is limited. 
Arrive early, cave tickets may sell out in advance.  
For more information about group tour reservations of 20 or more visitors, please contact the Florida Caverns Gift Shop, Monday through Friday at 850-526-2650.
Tour Fees
 Ages 0-2: No fee
Ages 3-12: $5 per person
Ages 13 and up $10.75 per person
What to Expect
Tours depart near the Visitor Center where visitors learn the safety precautions that are needed to participate, including having to stoop many times to pass through areas with a ceiling height of 4 1/2 feet for distances as far as 15 feet in length, narrow passages, 50 descending steps (possibly 50 ascending if the tour is modified due to high water conditions), slippery walkways, and the importance of not touching anything inside the fragile cave environment.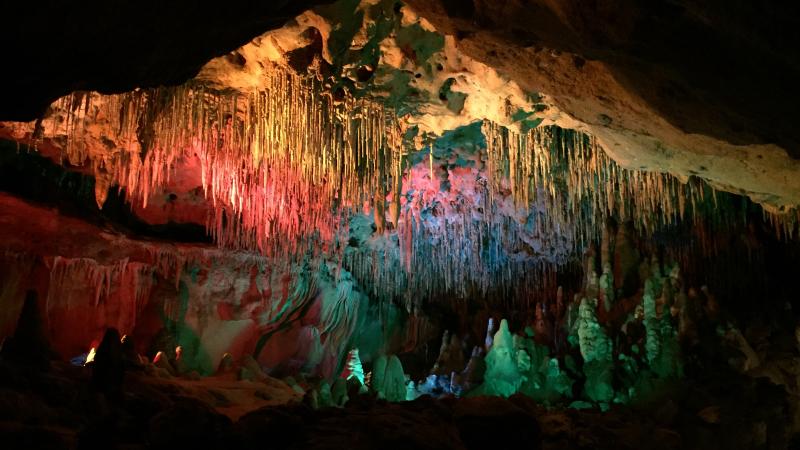 Visitors will walk 350 feet to the cave entrance and down 35 steps using a handrail.  When entering the caverns, it will take a few moments to become acclimated to the dimly-lit environment and year-round 65-degree temperature. The tour moves at a leisurely pace through a dozen cave rooms where the visitors are verbally guided through the cave's history, early uses, and interesting geological formations such as stalactites, stalagmites, columns and flowstones. 
Visitors may occasionally encounter some of the animals that call the cave home such as bats, mice, cave crickets, salamanders, cave spiders and the occasional snake or frog.
As the tour concludes, visitors ascend a 15-degree walkway to emerge into a hardwood forest and enjoy a self-paced walk back to the visitor center. 
A video of the Pre-Hurricane Michael cave tour and hiking trails are offered in the museum of the visitors center for those who would rather enjoy the tour from the comfort of the theater.