Services Provided
Boat Tours
Description
The refreshing waters of Wakulla Springs have long been an alluring attraction. Glass bottom boats giving passengers remarkable underwater views have been part of the spring's history as far back as 1875 when locals entertained visitors in a rowboat with a windowpane hull. The incredible water clarity aided the recovery of a complete mastodon skeleton that remains on display at the Museum of Florida History in Tallahassee.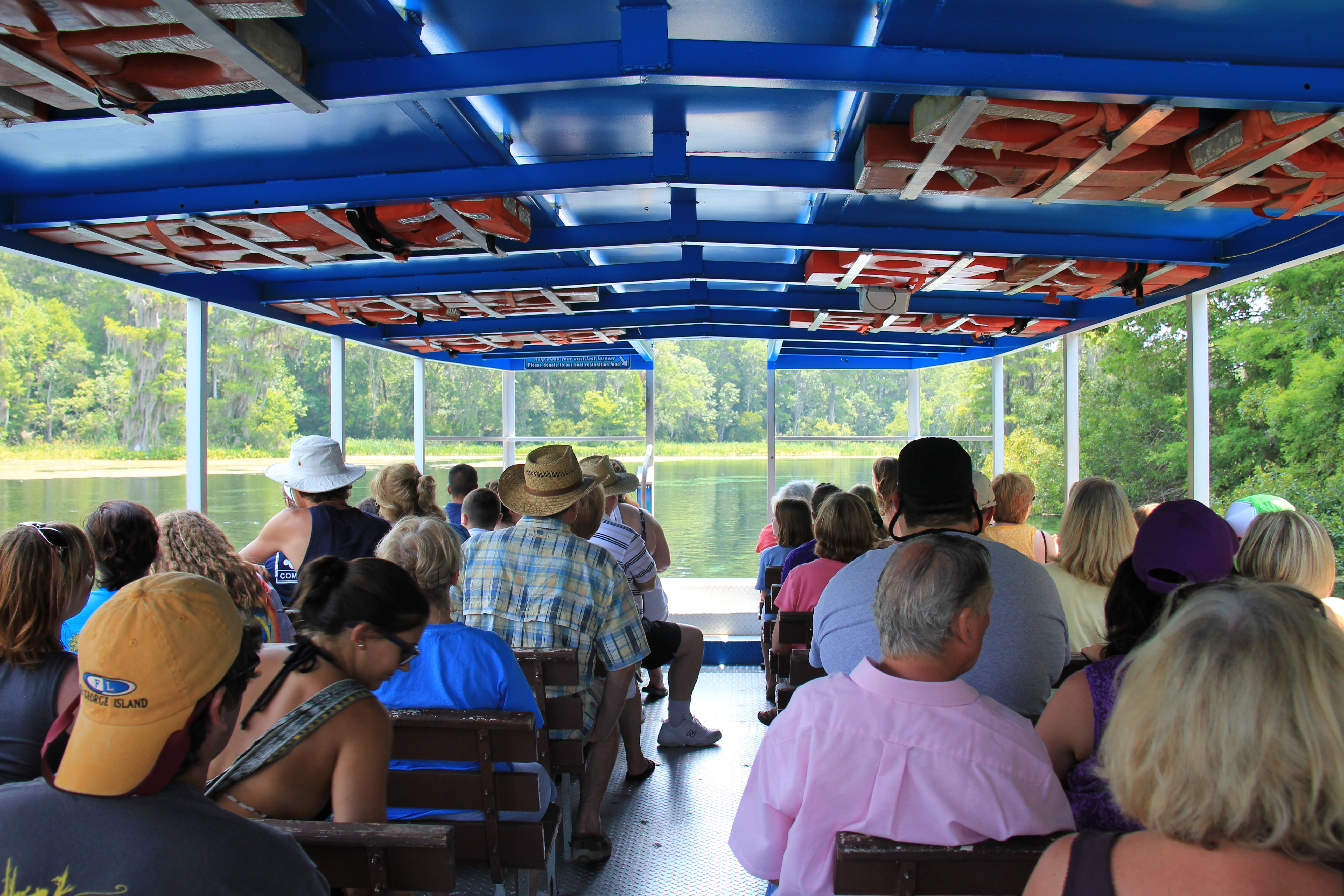 River Boat Tours
The river boat tour along the Wakulla River is one of the most popular visitor destinations in the Tallahassee area. The 45- to 55-minute world-class wildlife viewing event takes visitors on a 2-mile loop downstream and back among majestic bald cypress trees, elegant wading birds and toothy alligators. Manatees are often sighted, but their presence is not dependable.
Bring a camera to capture candid images of the river's fauna. The ranger-led tour not only highlights the wildlife but also may include stories of human interactions with the spring. Stories sometimes feature the lives of indigenous peoples, movies filmed during the Edward Ball years, and/or the more recent adventures of explorations within the caves that bring water to the spring.
The river boat tours run 365 days a year weather permitting (Temperatures must be above 40 degrees and tours are not conducted during thunderstorms). The boats are 30 feet long and have a roof. There are also wheelchair accessible boats available upon request. A manual wheelchair is also available for use upon request at the waterfront visitors center.
River Boat Tour Departures
The waterfront visitor center opens at 9:40 a.m.  
Succeeding tours depart at varying times, depending on visitor demand. Greater visitation results in more frequent tours.
The last tour of the day during Eastern Standard Time departs at 4:30 p.m. The last tour of the day during Daylight Saving Time is 5 p.m.
On Christmas Day the first boat departs at noon.
Fees
$8 for adults (13 years old and up).
$5 for children for ages 3 to 12.
Free for under children under the age of 3.
Tickets are available by reservation only or by calling 850-421-2000.
For school group visits, please call 850-561-7286 for details and to make arrangements.
Specialty boat tours are occasionally available. Please see the park's special event section for dates, times and associated fees.