History of Wakulla Springs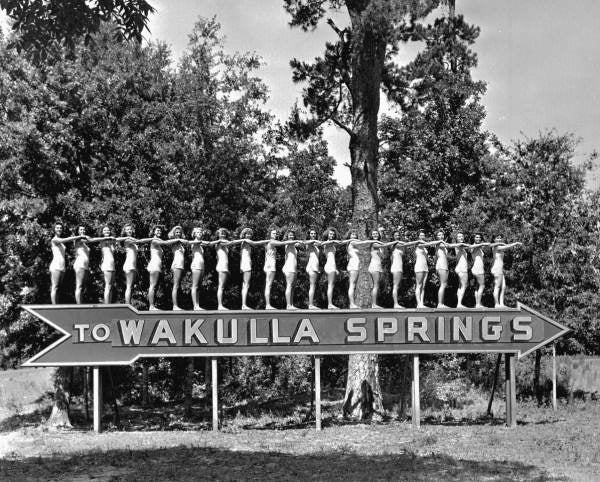 In 1937, financier Edward Ball took his idea of quiet elegance and placed it gently in the most serene place he'd found on his international travels, Wakulla Springs. He imported marble and tile, hired artisans in iron and stone, and introduced to the world a most unique retreat.
To explore the history of this grand hotel is to take a voyage back in time to Florida's "land boom"—those glorious days when people and money flowed into the Sunshine State, braving swamps and mud slides with an eye to the future. It started during the 1920s, when Ball was touring Florida's panhandle looking for land to purchase to grow pulpwood. He found love at first sight at Wakulla Springs. "I knew then that the area had to be preserved," Ball said, "but I didn't know exactly how at the time."
In 1931, Ball bought the springs and lodge site from the Christy brothers, who had a small restaurant where the present boat dock stands. He personally handled all facets of the design and construction of Wakulla Springs Lodge, outlining the floor plan, choosing the architects and materials, and insisting on meticulous attention to every detail. Construction of the two-story hotel began in 1935.
The original roof was of wood with steel superstructure. It was replaced after a fire, started unfortunately by a hapless trainee during the Lodge's use as a military training facility during World War II. The new roof was reinforced with slate and metal on steel to render it totally fireproof.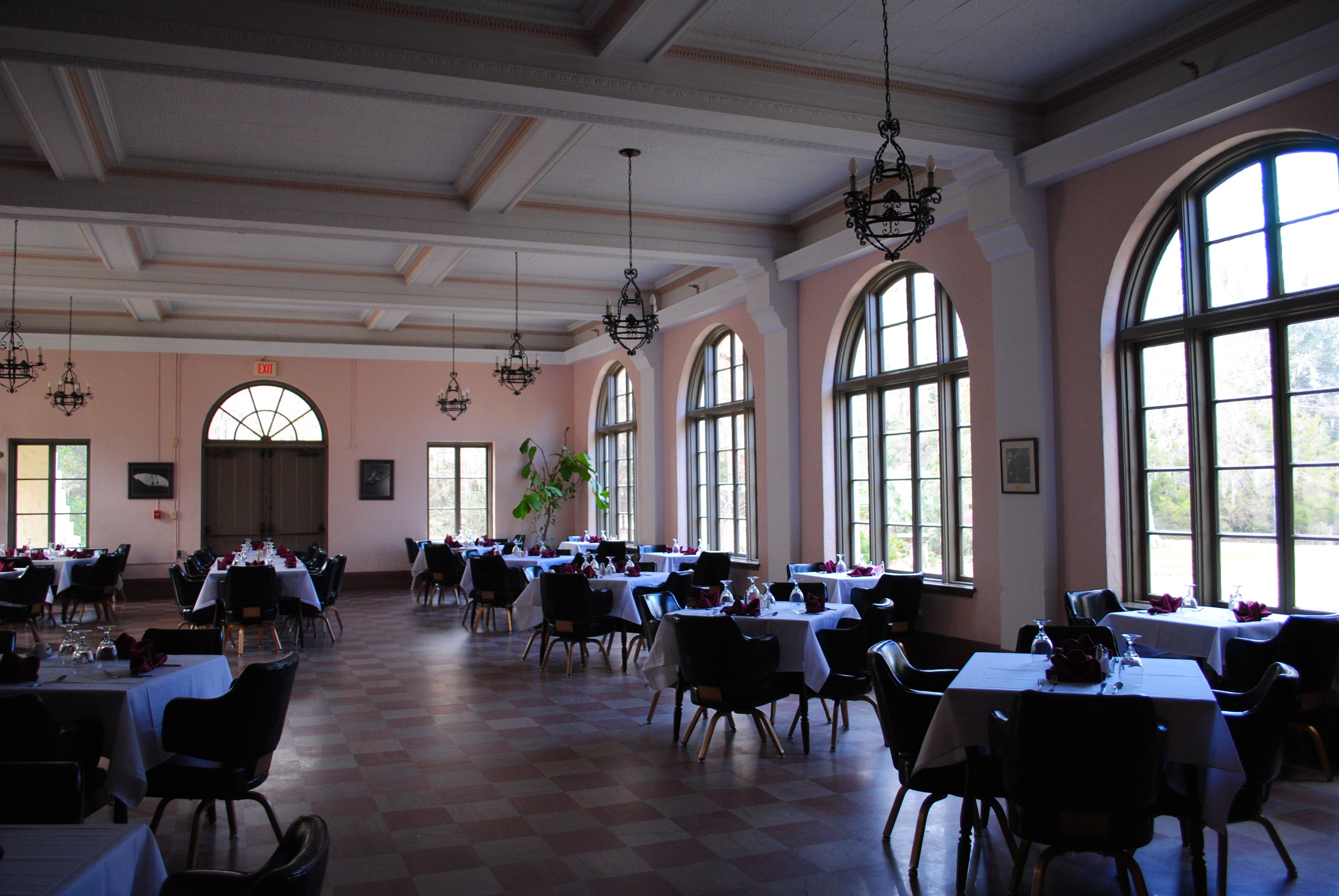 Ball's eye to quality and durability can also be seen through his lavish use of Tennessee marble throughout the lodge on floors, baseboards, thresholds, counters, stairwells, desk tops and table tops in the gift shop, lobby and veranda. The marble is fitted so meticulously no grout can be seen.
The world's longest known marble bar, at 70 feet 3 inches, is in the Soda Fountain/Gift Shop. This marble is "face matched." Eight pieces were cut from one block of marble. This process is known as quarter-sawing: a block of marble is cut in half, cut in half again, and each quarter is again cut in half to get eight panels, thereby producing a matching grain pattern.
The use of "heart" cypress can also be seen throughout the Lodge. Heart cypress is the very interior of the tree. All of the cypress logs used in the Lodge were obtained locally as "dead heads"—cypress that had fallen into water and been immersed for 50 years or longer, making it impervious to rot.The Great Lobby itself heads the list with use of this wood. Although this room is great in size, the height of the ceiling is about 16 feet, a huge expanse of hand-hewn cypress panels is still visible. The expansive transverse "beams" are actually steel girders faced with cypress planks.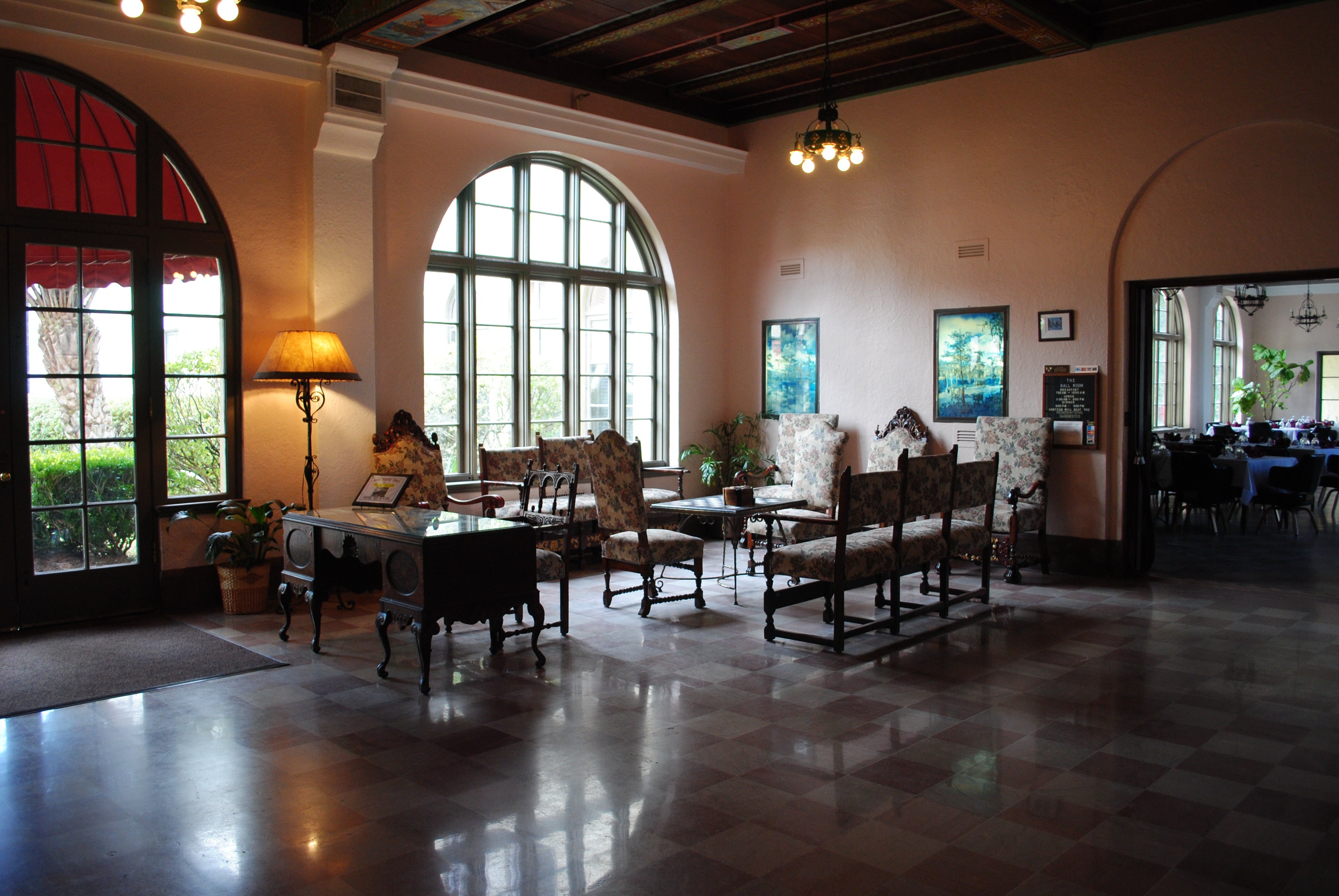 The lobby ceiling gets the most attention for its decorative painting of local wildlife scenes. Close examination shows it to be a combination of European folk art, intricate Arabic scroll work and Native American influences.
Two special features grace the rim of the lobby. The marble and iron staircase and the original elevator are both art deco masterpieces. The interior of the elevator walls are walnut, with quarter sewn, face matched grain and marquetry panels—an inlay using varied colored woods. This is the only known surviving period art deco elevator still in use.
The staircase's three landings are massive marble panels with face-matched grain that were cut from one block. The risers and treads also are matched panel of marble and granite. The wrought iron railing was made on site and illustrates wildlife from the river. The limpkins and herons in the balustrade are true to life in outline and size.
True to Ball's word to preserve the area and to create a serene and peaceful retreat, the Lodge at Wakulla Springs is an example of precise craftsmanship and offers visitors a timeless glimpse into Florida's pristine and elegant past.