Early Days on Dudley Farm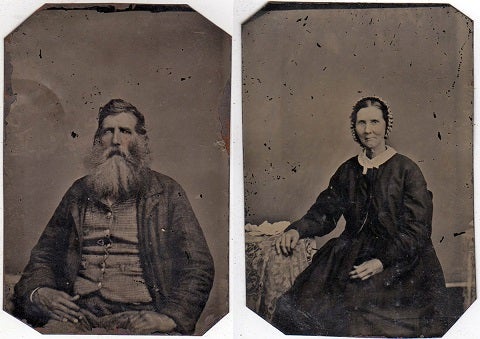 After Florida became a state in 1845, settlers from South Carolina arrived seeking land for cotton production and the enslaved arrived by force to work these lands. Philip Benjamin Harvey Dudley and his wife Mary were part of the migration, settling in Archer in 1852 and purchasing the land that became Dudley Farm in 1859.
Dudley rapidly became a middle-class agrarian through his ownership of 960 acres and 30 enslaved people who cleared land and grew cotton.
Just before the Civil War, the earliest homesite was built - a double-pen, dog-trot log cabin northwest of the present farmhouse. No remains of the cabin can be found except for the possible location of a well. Near the "old home place" there are limestone foundation remnants that may have been slave quarters (as described by Myrtle Dudley) or tenant farmer dwellings.
Dudley served the Confederacy during the Civil War as a captain of the Alachua Rangers 7th Regiment and arrived home to the challenge of managing a large cotton plantation without enslaved workers.
Dudley Sr. and Jr. turned to grazing cattle in addition to raising cotton and crops with hired help. Work began on a road from the farm to Gainesville so cattlemen could drive herds to market. "Dudley" was now on the map as a community center and crossroad connecting Newberry, Archer, Jonesville and Gainesville. The old road is still visible today.
Dudley Jr. and the Farm Expansion
When his father died in 1881, Dudley Jr., known as Ben, built the present farmhouse to accommodate his family that grew to eight girls and four boys. He added a general store, kitchen, smokehouse, sweet potato storehouse, dairy and canning house, outhouses, corn crib and barn. All were constructed of heart pine from the property.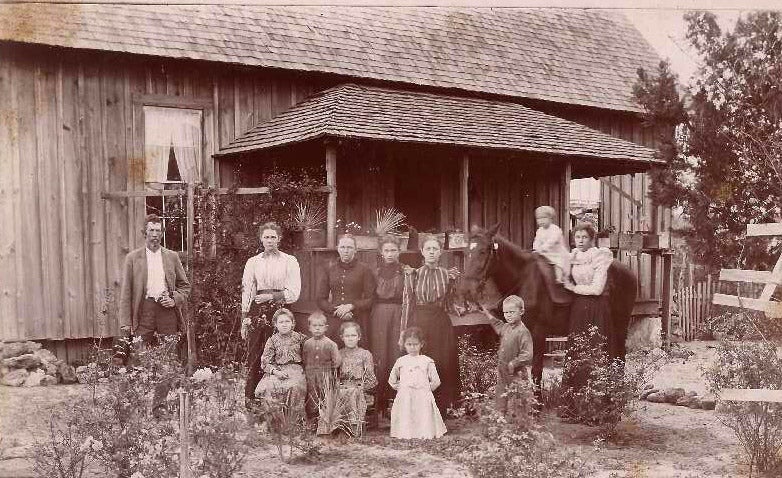 The prosperous farm produced cotton, corn, rice, millet, rye, oats, sugar cane and sweet potatoes. Milk, butter, eggs, turkeys and sausage were taken to Gainesville to be sold. In this pre-mechanization era, the entire family worked on the labor-intensive farm with horses, mules and essential hired help.
Though vital to the farm's achievements, laborers and tenant farmers were paid only with a "furnish" partly consisting of pork and sugarcane. Later, laborers and tenants may have worked on a cash basis.
New Era of Mechanization
Ben died in 1918 and his wife, Fannie, managed the farm with her sons Ralph, Harvey and Frank. The Dudleys strategically adapted their agricultural practices to the changing mechanized times, fluctuating markets and weather. As cotton declined, the Dudleys replaced it with tobacco and built the curing barn in 1930. The 1930s also brought a baler, harrow, mower, combine and threshing machine, which replaced much of the grueling hand labor on the farm.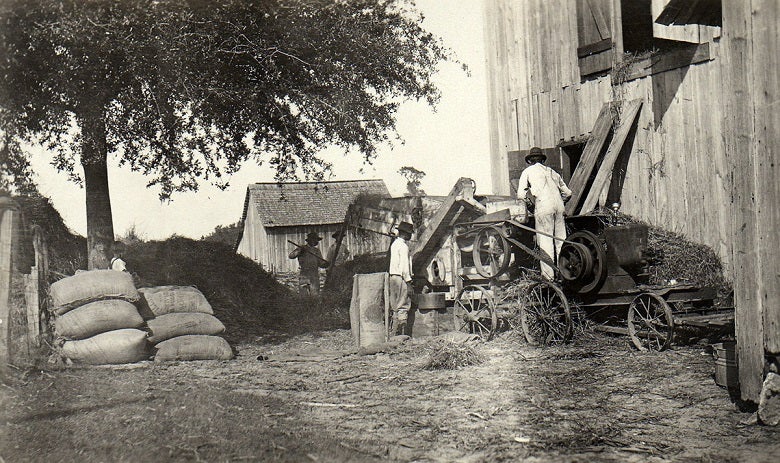 From a chicken and egg business to cane grindings to impressive gardens and orchards, the Dudley farm remained one of the area's most substantial - even through the Great Depression. Ralph Dudley was described as a leading farmer of Newberry and adapted his practices as urbanization increased and rural populations decreased. Most of the siblings moved away to start their own careers and families. Ralph stayed and continued to raise cattle, tobacco and vegetable crops until his death in 1967. 
Miss Myrtle Dudley to Today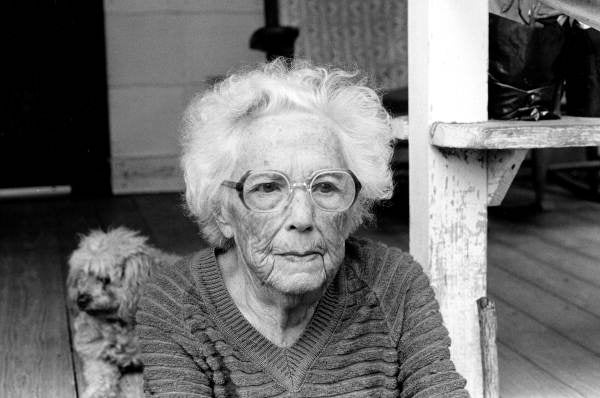 The youngest of Ben's 12 children, Miss Myrtle Dudley was the last to remain on the farm. She managed a small cattle herd and vegetable and flower gardens. Myrtle carried out her mother's wish to keep the farm intact by donating 24 acres to the park service in 1983.
Building restoration quickly began, and interviews were recorded providing details about daily life and changes over time. Over 6,000 objects associated with farming and the family have been collected, from furniture to hand-stitched quilts to an 1835 bible.
In 1986, the state purchased an additional 232 acres to preserve the rural landscape (now totaling 327 acres). Miss Dudley lived at the farm until her death in January of 1996 at the age of 94.
Today, living history interpreters conduct daily farm work including the care of cattle, poultry, crops and building maintenance. Cane grindings take place in the fall as it did when the Dudleys lived here.
Video and exhibits at the visitor center provide additional information. "Dudley Farm, a History of Florida Farm Life" by Ben Pickard is available at the park commissary.
National Historic Landmark Designation
Dudley Farm Historic State Park in Newberry was designated as a National Historic Landmark on Jan. 13, 2021. The farm received this designation for its exceptional ability to illustrate the history of owner-operator farms in the southern U.S. in the late 19th and 20th centuries. A memorial plaque was unveiled at the park on Dec. 4, 2021.