Cave Diving at Peacock Springs
Nearly 20,000 visitors come to Wes Skiles Peacock Springs State Park each year, a great number of which are attracted by the premier cave diving in this otherwise rural area of North Florida.
More than 60 years since the first divers entered the water here and began mapping the cave system, over 30,000 feet of limestone passages and rooms have been documented and explored, and new discoveries are still being made. Divers add to not only our knowledge of the cave systems, but also expand our knowledge of the animals, water quality and geology found within. Divers are explorers, scientists and visitors to the park, and their willingness to venture into the unknown makes this knowledge attainable.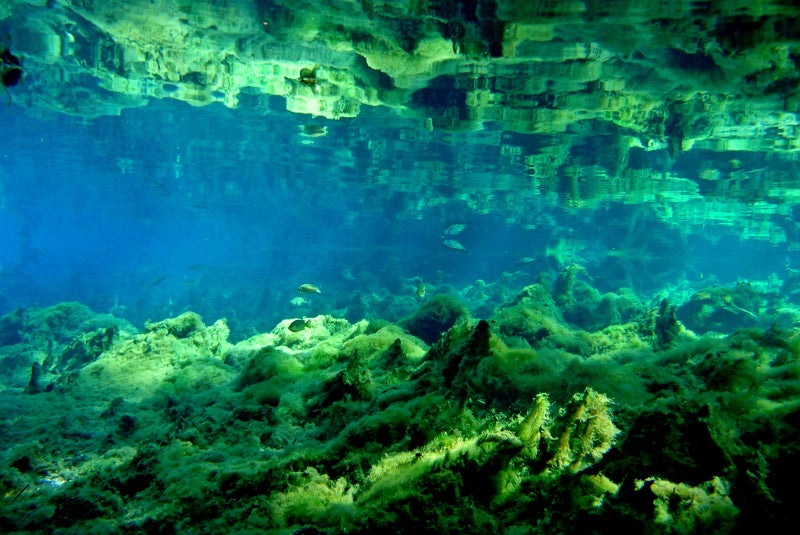 Three main entrances to the cave system allow divers to begin their journey. While there are many areas to explore, it is vital to follow directions along the main pathways and know the major landmarks. These include such areas as the Breakdown Room - a water-filled cave passage 20 feet below the ground, named because of the large rocks that have broken off the ceiling to form a pile on the floor below.
The Peanut Restriction consists of a sinkhole that sits over a section of cave where the passages narrow.
The Crypt, an area of collapsed tunnel that Sheck Exley discovered in 1975, is named for the skeletal remains of a large turtle he found there.
The Olsen Sink is a favorite, where a karst window formed when a sinkhole collapsed and light streams through from the surface.
Nicholson Tunnel forms a side passage from the main tunnels, and the Pothole acts as yet another entrance to the system.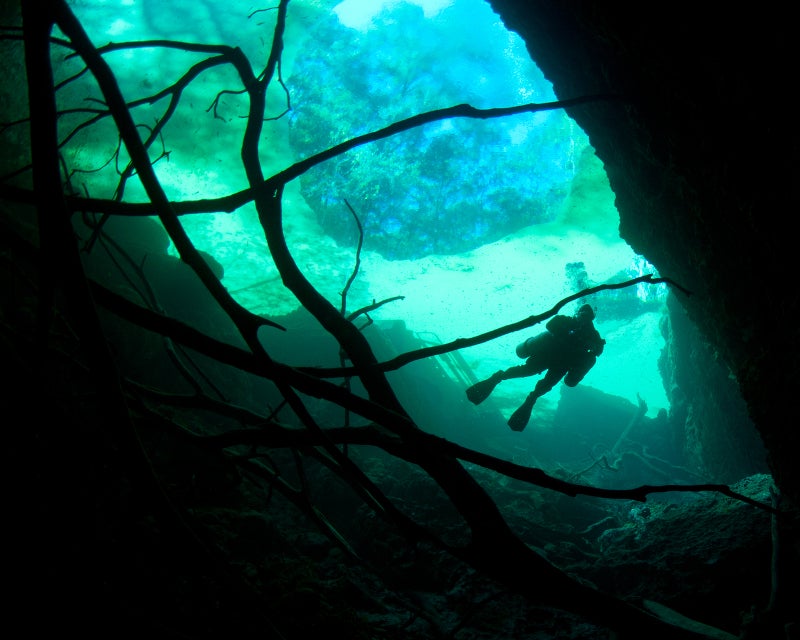 Thanks to support from the North Florida Springs Alliance, the park provides high tables and benches to place and don heavy gear, as well washing stations and showers. The park also provides clear diving guidelines because safety is of the utmost importance. It is vital that divers have specialized training in cave diving - navigating in dark and tight spaces with no direct access to the surface is no easy feat.
All divers must show proof of certification before entering the water or leave certifications visible on the car dashboard.
All divers are asked to sign in using the Diver Sign-In Form.
Dive parties must consist of at least two divers. No solo diving is permitted.
Cavern and cave diving is available to certified dive teams in Orange Grove Sink and Peacock Springs.
Open water divers are allowed in Orange Grove Sink only.
Open water divers are not permitted to carry lights.
Dives must be conducted in designated areas only and within the limits of the diver's certification.
Entering or surfacing anywhere but Peacock Springs or Orange Grove Sink is prohibited unless necessary to ensure the safety of the divers.
All student divers must sign in under an instructor's permit.
Instructors conducting a class must have a current Commercial Dive Permit.
The use of scooters (DPVs) is prohibited within the park.
Fossils and other artifacts are not to be disturbed or moved. Any aquatic plants or animals that you encounter shall not be trampled or otherwise disturbed.
Do not carve or otherwise deface rocks or any other surfaces.
Dives must be concluded one hour before sundown.
All persons participating in scuba diving activity do so at their own risk.
The list of rules is long, but following them is key to maintaining a safe and enjoyable experience in the park. If you, like so many others before, have felt the call of the deep, dark and unexplored places of the world, come to Wes Skiles Peacock Springs State Park. We'll see you down below.