District 1 Award Recipients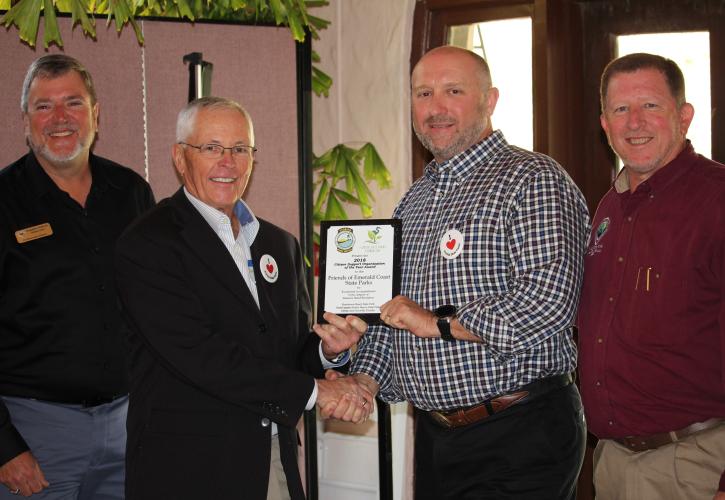 Emerald Coast State Parks - Citizen Support Organization: Resource-based Recreation, Henderson Beach State Park and Fred Gannon Rocky Bayou State Park
This CSO has enhanced the visitor experience by promoting stewardship through leadership and funding of major visitor service initiatives, such as trail enhancement projects, equipment purchases, and structural improvements and repairs. The total financial support for both of their parks exceeded $200,000.
Close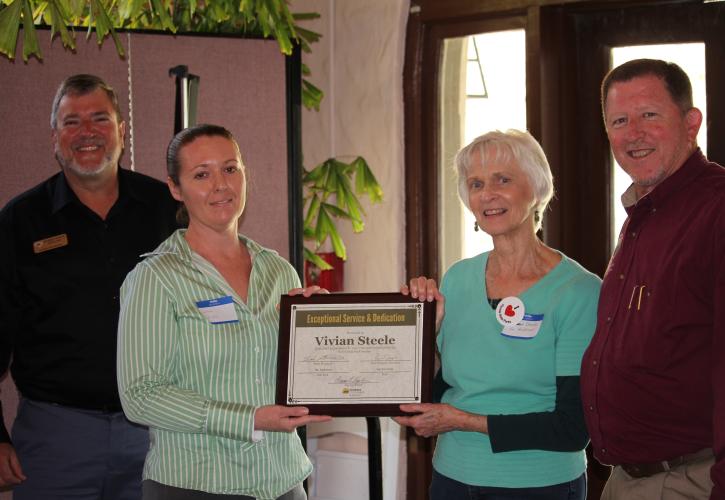 Vivian Steele - 25 Years of Service, St. Andrews State Park
Vivian has contributed over 7,000 hours over the last 25 years at St. Andrews State Park. She was instrumental obtaining the park's new Environmental Interpretive Center in 2005. Prior to, Vivian spent years writing letters asking for donations, submitting grants, and speaking within the community in order to secure the necessary funding. Vivian worked closely with park staff in the planning of the exhibits for the new center, and even helped secure the animals for the displays through FWC.
Close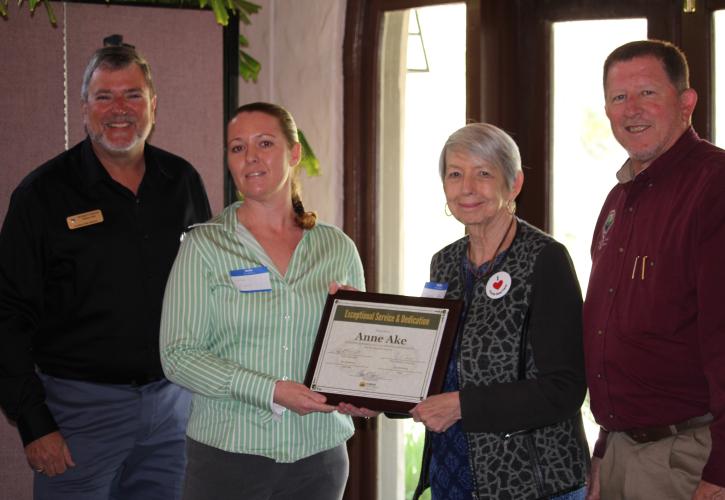 Anne Ake - 25 Years of Service, St. Andrews State Park
Anne has been involved with St. Andrews State Park for 25 years. She has used her talents to continuously support the park's endeavors. This has included serving as President of the Friends group, creating a variety of new programs and activities for park guests, and gathering donations for various park maintenance projects.
Close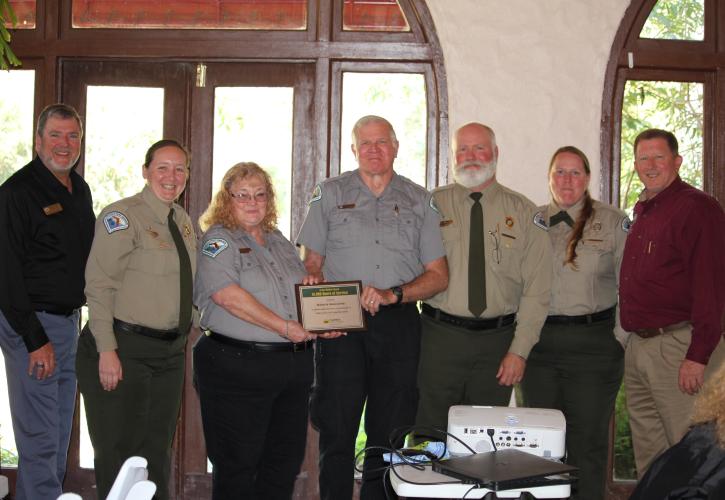 Bob and Dee Green - 10,000+ Hours, Three Rivers State Park, Torreya State Park, Edward Ball Wakulla Springs State Park
Bob and Dee Green have been volunteering at Wakulla Springs State Park since 2014 and have dedicated over 10,000 hours to supporting the park. They have assisted in numerous projects including hurricane recovery, clean up events, the Jr. Ranger program and prescribed burns. Outside of the park projects, they are always willing to do what they can to help keep the park beautiful.
Close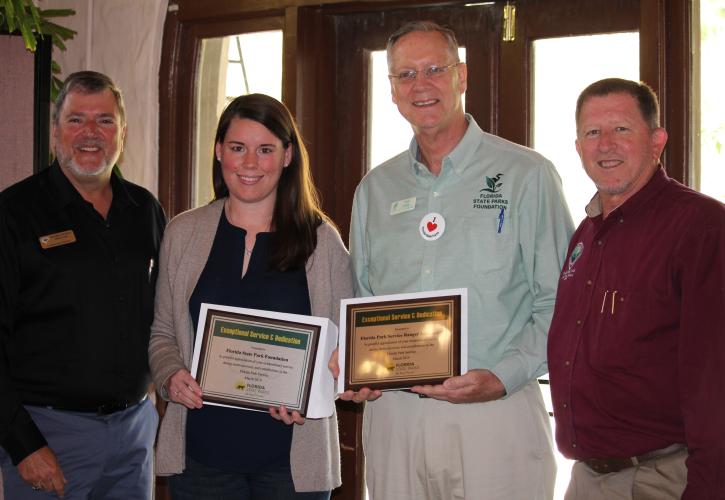 The Florida State Park Foundation, CEO Julia Woodard was recognized for assisting DEP staff following Hurricane Michael, including providing a $50,000 hardship fund for those most affected and collecting donations to aid in park recovery efforts. 
The Florida Park Service Ranger Association, Tom Linley was recognized for awarding 39 Florida Park Service staff and their families a total of $33,200 for financial recovery following Hurricane Michael.
Close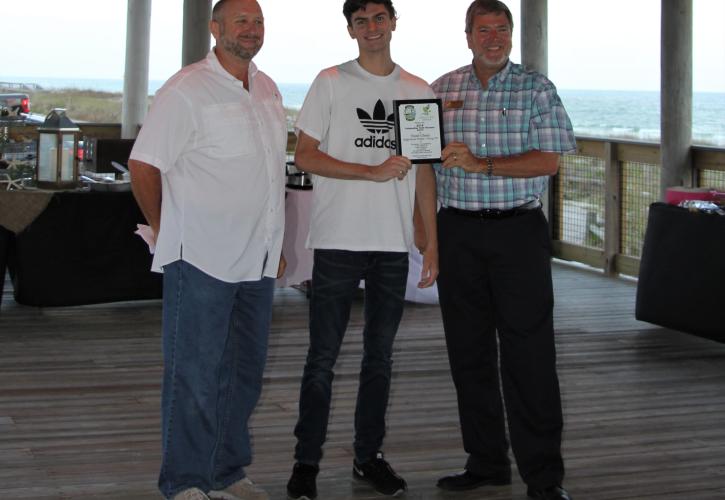 Noah Glenn - Youth Volunteer: Protection
Henderson Beach State Park
Eagle Scouts do amazing things. Noah Glenn came up with the idea of installing Life Ring stations at Henderson due to the large number of visitors that come to the park each spring and summer and are unaware of dangerous swimming conditions that can occur in the gulf waters. He wanted to make sure that there was some type of safety equipment available since there are no lifeguards available at this stretch of beach. Life Ring Rescue stations were installed at each access point for a total of eight stations in Henderson Beach State Park.
Close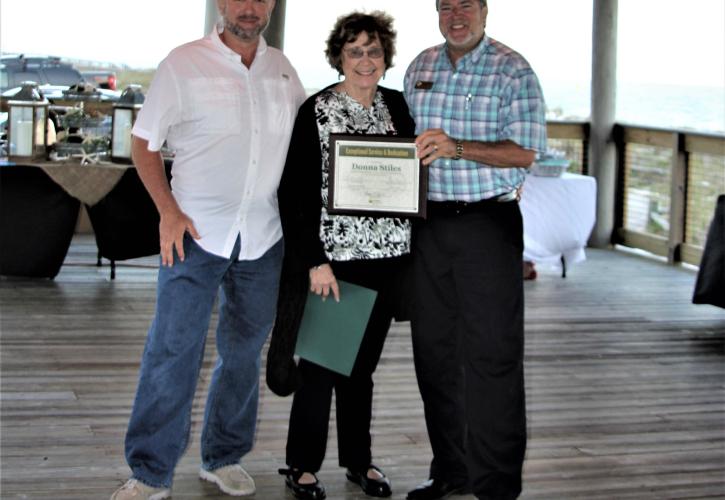 Donna Stiles - 20 Years of Service
Henderson Beach State Park and Fred Gannon Rocky Bayou State Park
Donna has been with Henderson Beach and Fred Gannon Rocky Bayou State Parks since 1998. She started volunteering at Henderson operating the Ranger Station checking in campers and as Volunteer Toll Collector. She was part of the group that helped develop and organize the Friends of Emerald Coast State Parks in 1999.  Donna has contributed well over 10,000 hours, helping to organize events and build partnerships within the community to better the events and community.  Donna also helped with educational programs for over 3,000 school children in the Okaloosa community. 
Close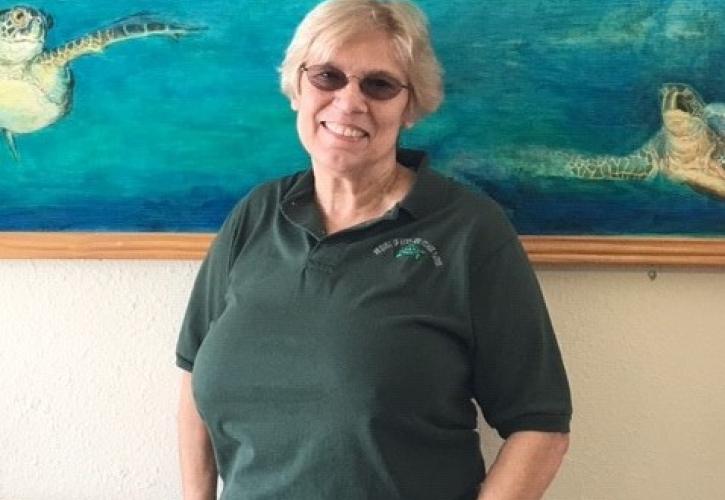 Susan Kneller - 25 Years of Service
Henderson Beach State Park
Sue Kneller became a volunteer in 1993 at Henderson Beach State Park.  She is also one of the founding members of the Friends of Emerald Coast State Parks (FOECSP) and has served on the board in various roles over the years.  Most recently Sue agreed to serve as President for a third time.  During her tenure Sue invigorates the Friends with new programs and activities while also serving as a volunteer working the entrance window greeting guests.  
Close
District 2 Award Recipients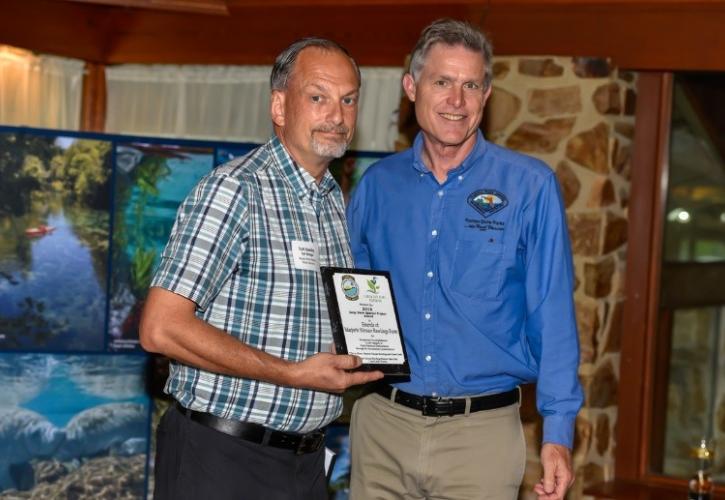 Friends of the Marjorie Kinnan Rawlings Farm - Long Range Project (historical), Marjorie Kinnan Rawlings Historic State Park
This multi-year project, which resulted in a 40-minute documentary entitled Here is Home: Marjorie Kinnan Rawlings and Cross Creek. The significance of the project is overwhelming, as it provides a rare glimpse of Marjorie Kinnan Rawlings through candid interviews with some of her closest friends and acquaintances, including her second husband Norton Baskin, original audio of Marjorie herself and special insight by biographer Anne McCutchen.
Close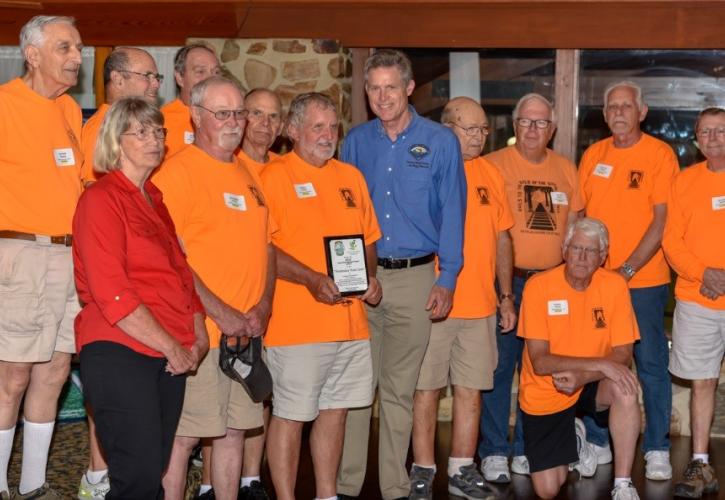 Wednesday Work Crew - Long Range Project (Resource-based Recreation), Withlacoochee State Trail
This dynamic team is made up of 11 dedicated volunteers, Al Cairns, Jack Crandall, Harris Floyd, Jeff Hyde, Ken Kraut, Jim McLean, Rich Roussel, John Shire, John Stahl, Dave Sullivan and work crew leader Don Zutaut. The group as a whole has over 12,406 lifetime hours of volunteer service. In March of 2017 this team took on the task of removing 312 white cedar posts that were located at each one of the road crossings along the Withlacoochee State Trail, causing a safety hazard for trail users.
Close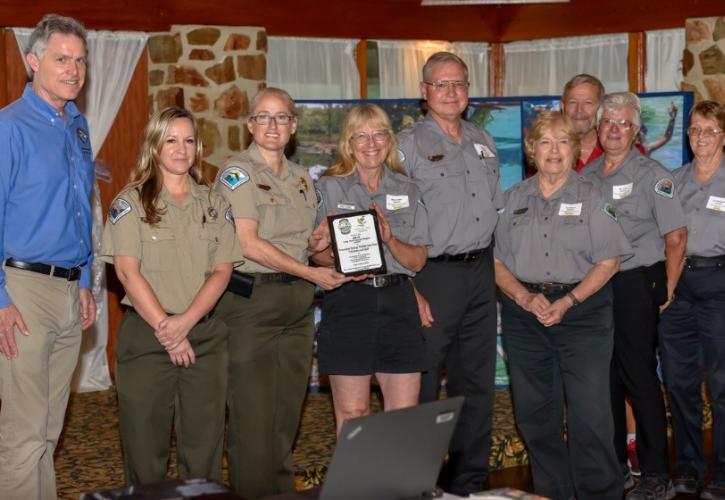 Volunteers of Ellie Schiller Homosassa Springs Wildlife State Park - Long Range Project (Natural): Eagle/Vulture Exhibit, Ellie Schiller Homosassa Springs Wildlife State Park
Volunteers who contributed to the project included: Mindy Cabral, Robert Lang, Paul Christensen, Ginny Svoboda, Terry Jones, Sue Bathauer with funding from The Friends of Homosassa Springs Wildlife Park. The Eagle-Vulture Exhibit took about 15 months to complete. The project objective was to educate visitors about the cooperative relationship between eagles and vultures in a unique, cohabitation aviary. In addition, a video describing the cooperation between eagles and vultures as scavengers was produced and is shown in a continuous loop at the adjacent wildlife pavilion.
Close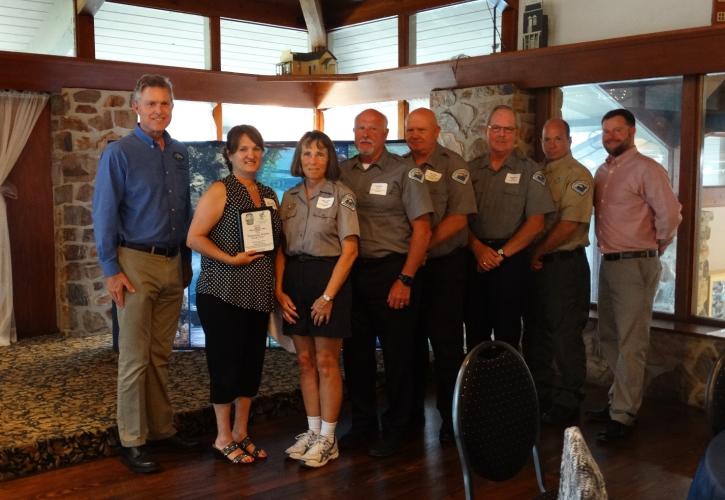 Wednesday Warriors - Team (Maintenance), Crystal River Preserve State Park and Crystal River Archaeological State Park
A new team of volunteers, aptly named the Wednesday Warrior Work Crew, was established in January 2018. This volunteer team is made up of David Smith, Rob Arms, Beth Arms, Buffy De Matteis, Ron Roecker, Justine Roecker, Mike Petellat, Greg Smith, Roger Coates, John Erickkson, Ross Barnum, Burnadette Christian, Lee Eseman and Mike Bailey.
Close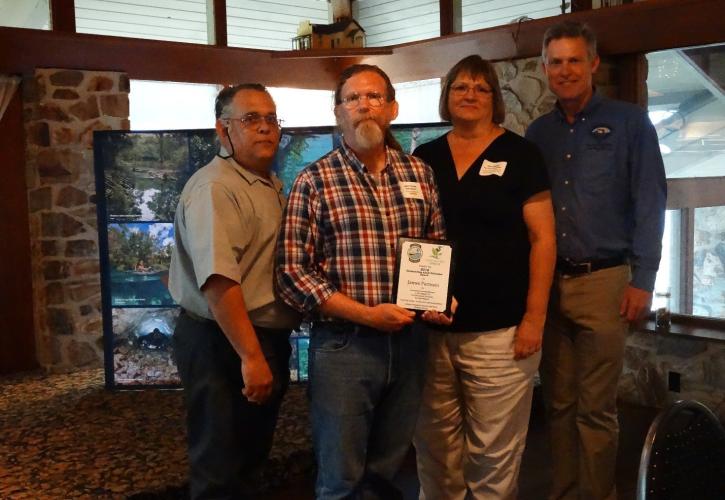 James Permane - Special Event (historical), Olustee Battlefiled Historic State Park and Battle of Olustee Reenactment
The Olustee Battle Reenactment is the largest Civil War reenactment in the southeast. James has been a part of the Battle of Olustee Reenactment since 1985, and spends a lot of time reading soldier diaries, battle plans and other source materials to make sure his portrayals are accurate. James is also a board member of the Olustee Battlefield Historic State Park Citizens Support Organization and serves on the museum committee. 
Close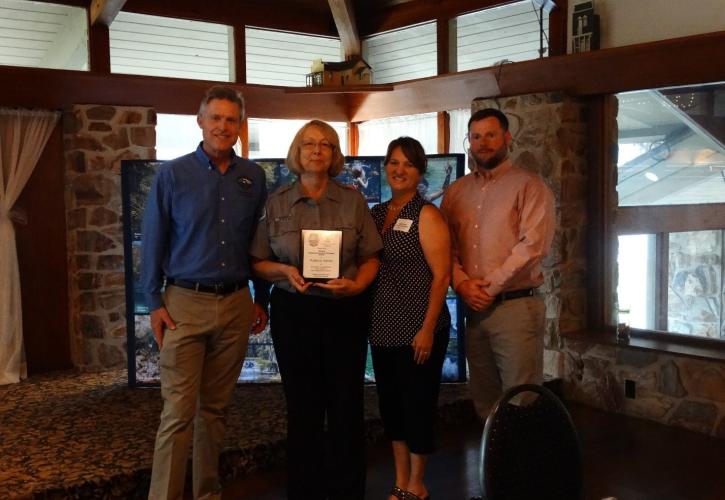 Kathryn Askins - Adult Volunteer (admin), Crystal River Archaeological State Park Museum
Kathryn Askins started her volunteer career in October of 2016 as a docent at the Crystal River Archaeological State Park Museum. Two years and 1,200 volunteer hours later, Kathryn serves as the President of The Friends of the Crystal River, volunteers twice weekly as a docent, trains new volunteers, greets guests at the Moon Over the Mounds special events, leads interpretive tours and networks outside of the park boundaries to encourage influencers in the community to support state parks.
Close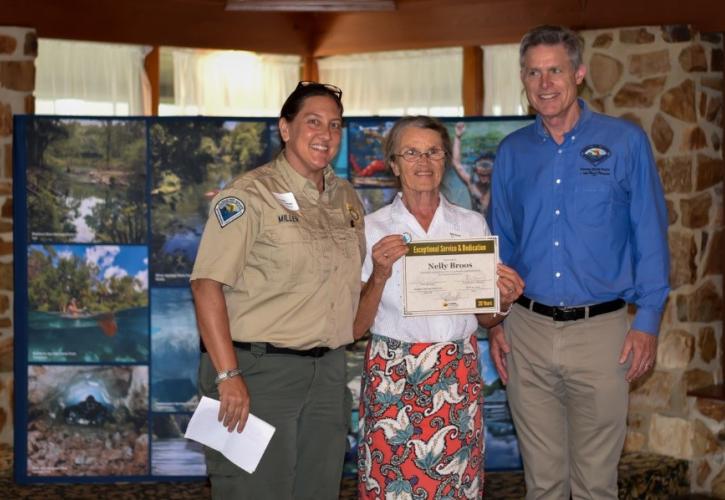 Nelly Broos - 20 Years of Volunteering, Rainbow Springs State Park
Nelly Broos has been a volunteer for Rainbow Springs State Park since December of 1997 (21 years). During that time, she has graciously volunteered over 10,000 hours of her time to the park. She has participated in just about every event held at Rainbow Springs from being an elf for Santa over the Rainbow to teaching kids about the games that existed in the 1800s at Cracker Days. For 17 years, she worked in the toll booth at the main entrance collecting fees and greeting the incoming visitors.
Close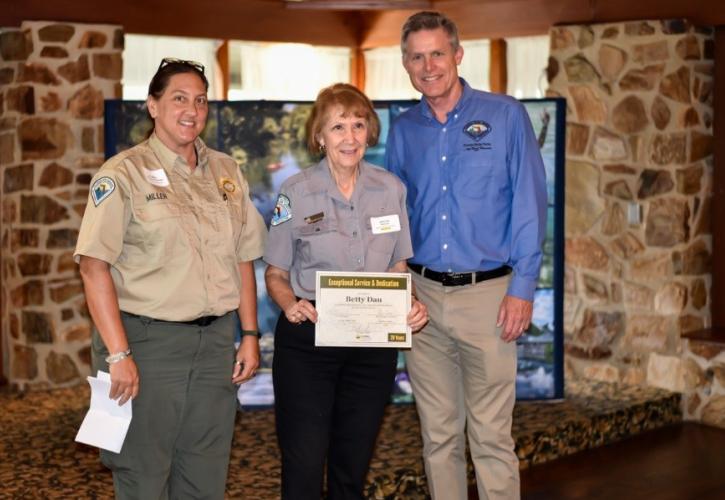 Betty Dau - 20 Years of Volunteering, Rainbow Springs State Park
Betty Dau started volunteering at Rainbow Springs State Park in January of 1998. She is also the volunteer trainer, making sure that new gift shop volunteers are properly trained.  Betty has been involved with most events sponsored by the Friends of Rainbow Springs, including Santa Over the Rainbow, art shows, Easter egg hunts, Halloween events, Cracker Days and Boom Town Days. She was a board member of The Friends of Rainbow Springs on and off until 2017. During that time, she served as the treasurer for four years. 
Close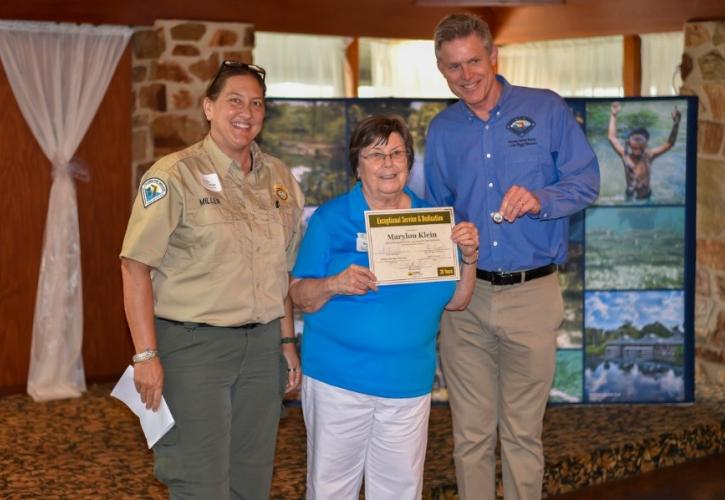 Marylou Klein - Volunteer of 20 Years, Rainbow Springs State Park
Marylou Klein began volunteering in March 1998.  Marylou and her husband Artie, both joined the Friends of Rainbow Springs and served on the board. While serving, she has been vice president and president. She continues to be an active member and is currently finishing her last year as secretary. She has also served as the Volunteer and CSO Ambassador for the state, which she fulfilled for three years.
Close
District 3 Award Recipients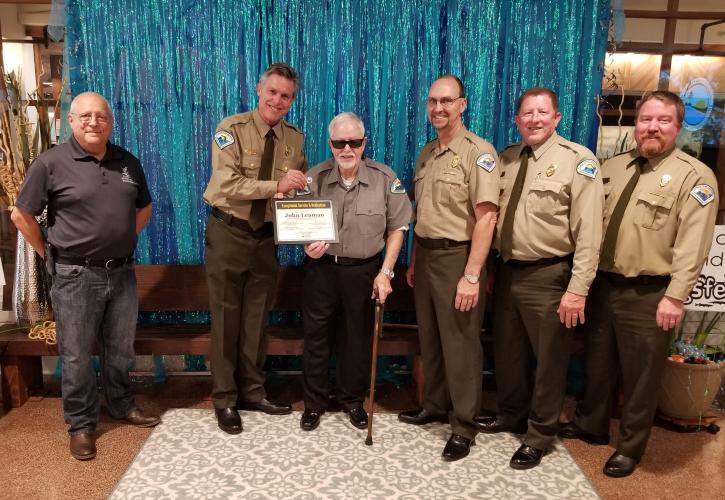 John Leaman - 25 Years of Service, Wekiwa Springs State Park
John Leaman was a founding member of the Wekiva Wilderness Trust in 1990, and he has been volunteering ever since contributing hundreds of hours every year at Wekiwa Springs State Park, especially at the nature center. He gives regular talks about the animals in the park, especially gators on which he is an expert. He has dedicated 25 years of service to the park, sharing his passion for the environment with visitors.
Close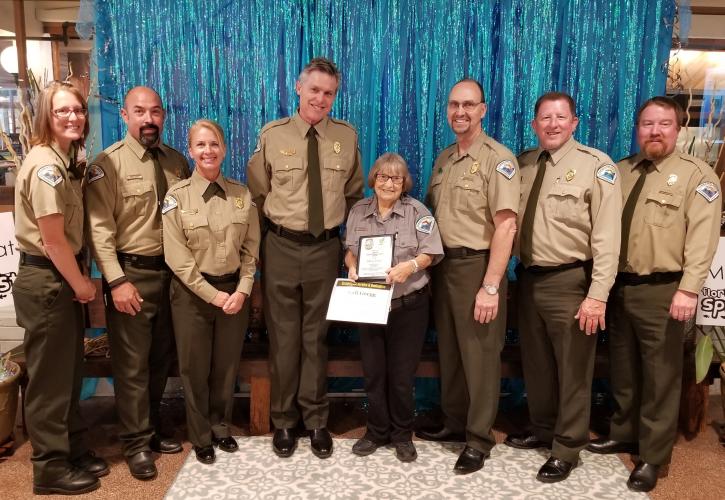 The Show Team - Outstanding Team of Three or More for Visitor Services, Sebastian Inlet State Park and St. Sebastian River Preserve State Park
The Show Team is a group of volunteers who worked together to represent and promote the Florida Park Service at 14 different events and festivals in the local area throughout this last year.  They share information about the natural resources, amenities, interpretive programming, volunteer opportunities, ecosystems, camping, concessions and so much more.
Close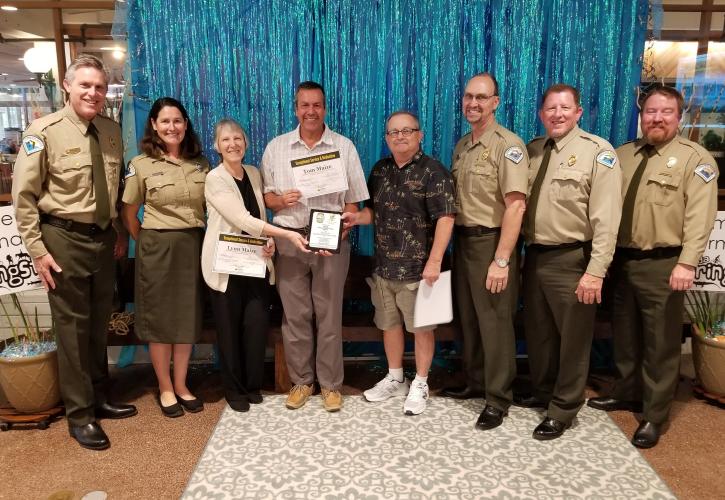 Friends of Gamble Rogers State Park - Outstanding Team of Three or More for Resource Management, Gamble Rogers Memorial State Recreation Area at Flagler Beach
The Friends of Gamble Rogers State Park partnered with the Marine Discovery Center in 2016 to start a Shuck and Share Oyster program. This program involves the collection of oyster shells, creation of restoration materials and the deployment of the materials. 74,000 pounds of oyster shells were collected and recycled, keeping them out of the landfill.  This oyster recycling program has the potential to restore 825 meters of shoreline.
Close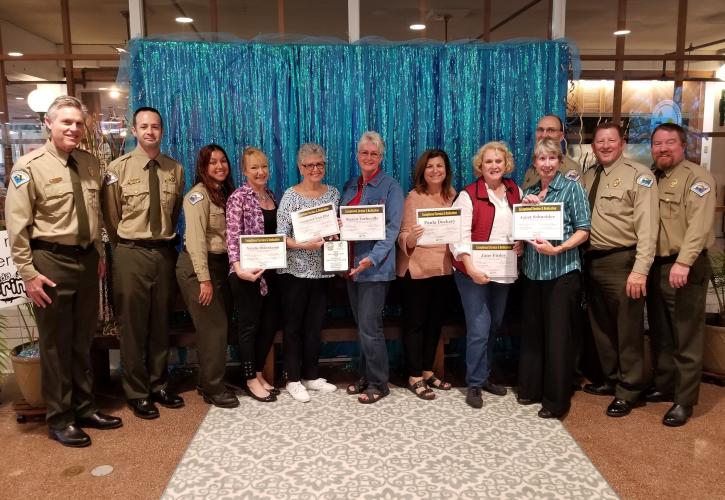 Friends of Colt Creek - Short Term Special Project for Resource-based Recreation, Colt Creek State Park
The Friends of Colt Creek imagined a lakefront gazebo as a smart contribution to the park and collaborated with park staff to make that vision a reality. They have enhanced visitor experience at the park by providing an area for weddings, gatherings and photo opportunities with the scenic backdrop of Mac Lake.
Close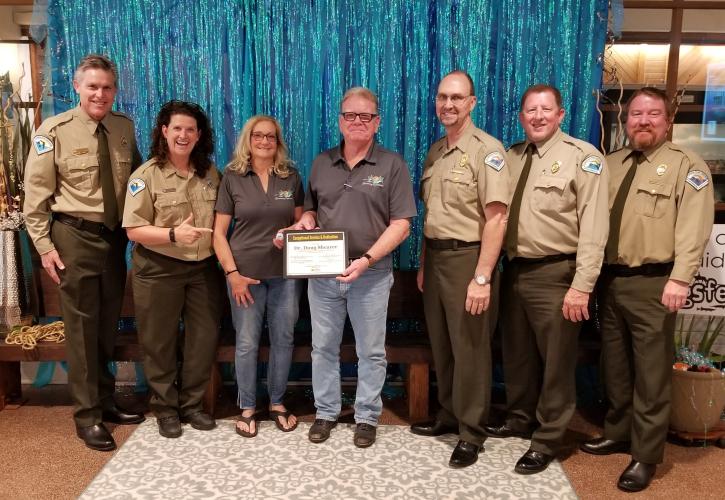 Doug Shearer - 20 Years of Service
Marjorie Harris Carr Cross Florida Greenways
Dr. Doug Shearer is a selfless volunteer who has given 20 + years of volunteer service to the Marjorie Harris Carr Cross Florida Greenway. He is a retired veterinarian who uses his knowledge at many of our equestrian events. Dr. Doug Shearer is constantly maintaining the equestrian trails. He spends 5 days a week mowing trails, cutting trees, fixing erosion issues and educating other trail users on trail etiquette. He helped us design our new equestrian trailhead, putting in a trail to access our existing trail system and helping to calm upset equestrians and keeping them informed of the changes. He knows the trails better than our GPS and has been the Greenway Equestrian organization's President for many, many years, recently stepping down but still very active within the group.
Close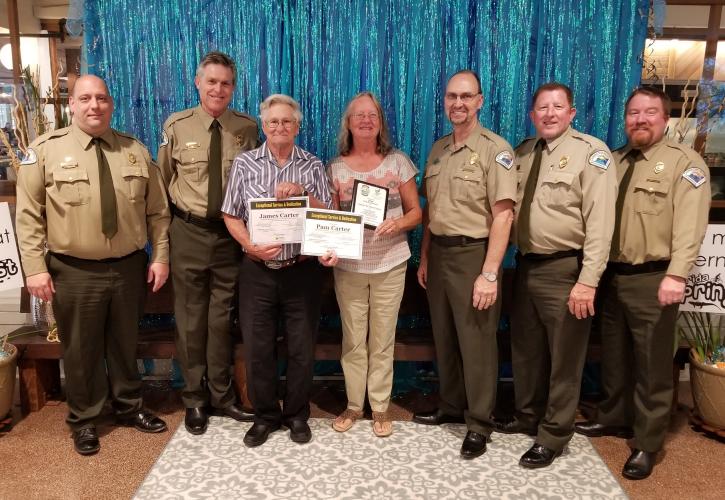 James and Pam Carter - Outstanding Team of Two for Park Maintenance
Rock Springs Run Preserve State Park
The Carters have served since 2015, volunteering over 7,600 hours. In 2018, they maintained Lower Wekiva River Preserve (Katie's Landing parcel) and Rock Springs Run State Reserve on their own. These busy parks were kept in pristine condition for visitors by the Carters.  They kept the facilities sparkling clean by deep cleaning, pressure washing, emptying trash receptacles, fixing repairs, mowing, weeding and picking up litter. The horse campers, hikers and large groups that come to Rock Springs always feel welcome thanks to the Carters. They uphold the standard of excellence that visitors have come to expect from Florida State Parks. 
Close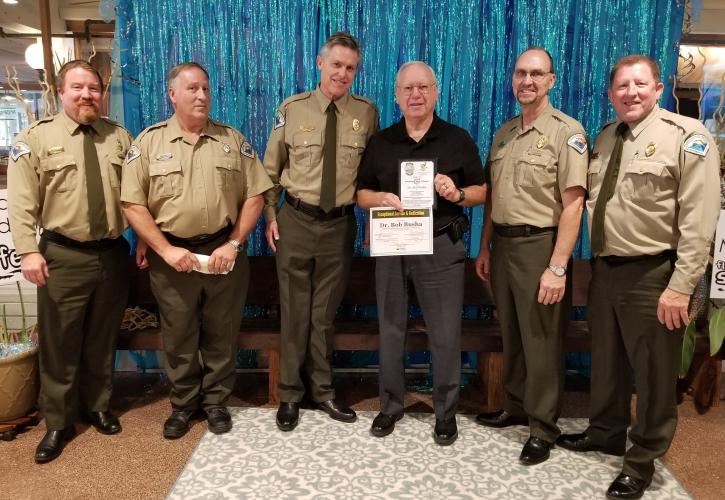 Dr. Bob Busha - Outstanding Adult Volunteer: Visitor Services
Marjorie Harris Carr Cross Florida Greenways
Dr Bob is an outdoor enthusiast that has been volunteering for 4 years at the Cross Florida Greenway assisting with trail maintenance. He is a master story teller that loves to share local history with hikers he encounters on the trails. His signature project was the development of a 0.4 mile trail called "The Island." This trail takes you through an interpretive journey through the Great Depression era historical bridge stanchions. 
Close
District 4 Award Recipients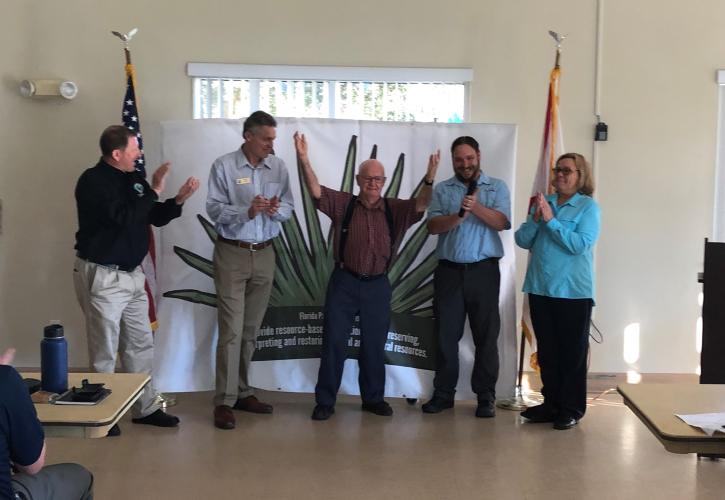 Leo Mulcahy - 30 Years of Exceptional Service, Myakka River State Park
Leo Mulcahy has maintained all equipment at Myakka River State Park and throughout District 4. This includes building the tractor engines and finding his way around any piece of equipment that he is given as a challenge. He is an invaluable member of the park family.
Close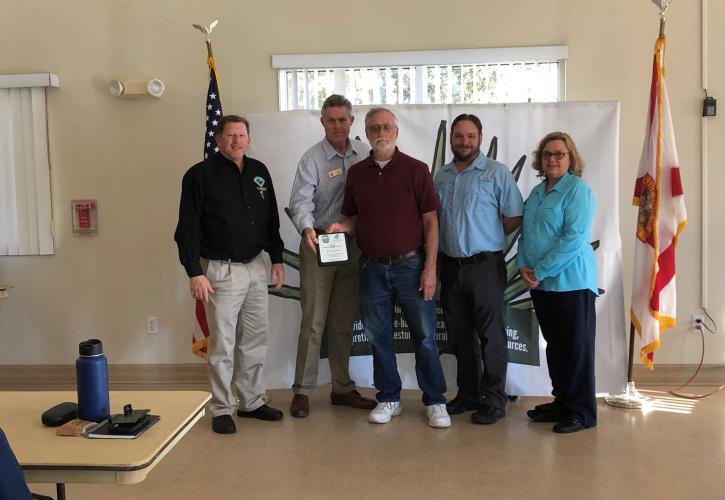 Earl Cross - 2018 Outstanding Adult Volunteer Award for Exceptional Accomplishment in the Category of Park Maintenance Services, Myakka River State Park
Earl Cross is an essential member of the park maintenance team. He consistently contributes many more hours than required each week, sometimes 7 days a week. His past projects include reroofing numerous buildings, new construction of a pole barn, restoration work to historic structures, and everyday maintenance. His knowledge of electrical systems sets him apart from others assisting with a variety of electrical issue throughout the park.
Close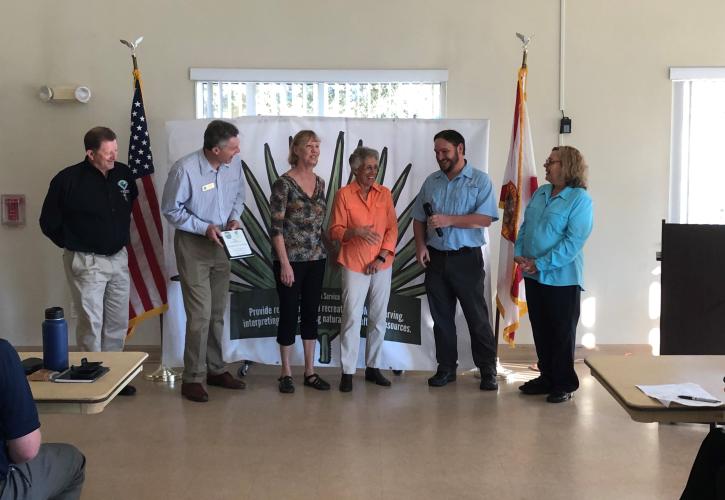 Kim Anderson and Lois Watson - 2018 Team of Two Award, Exceptional Accomplishment in the Category of Park Administration Services, Myakka River State Park
Kim Anderson and Lois Watson are invaluable team members. They took on the role of park volunteer managers while the staff volunteer manager was out. The became huge assets because they stepped in at a critical time while becoming familiar with the volunteer manager position and involving themselves in park operations.
Close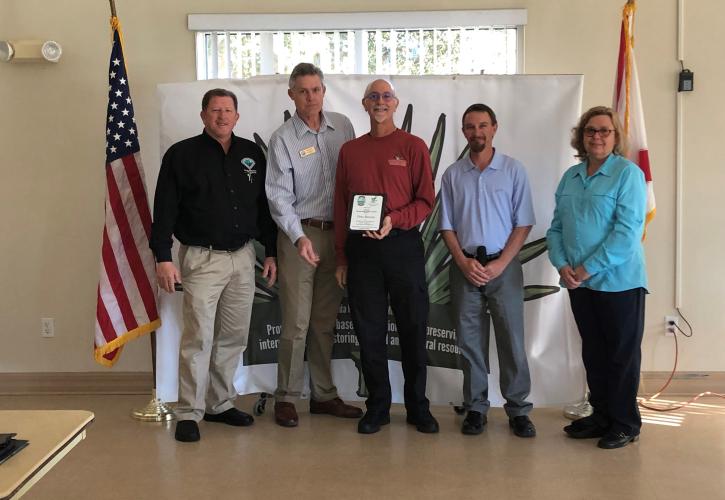 Dino Barone - 2018 Outstanding Adult Volunteer Award for Exceptional Accomplishment in the Category of Park Resource Management, Fakahatchee Strand Preserve State Park
Dino Barone Dino leads the Faka-"hackers" group keeping the park's miles of trails open and accessible. He is the first point of contact, organizing and directing the efforts of volunteer groups that benefit the park. He also supports park staff in a number of ways, in any way he can.
Close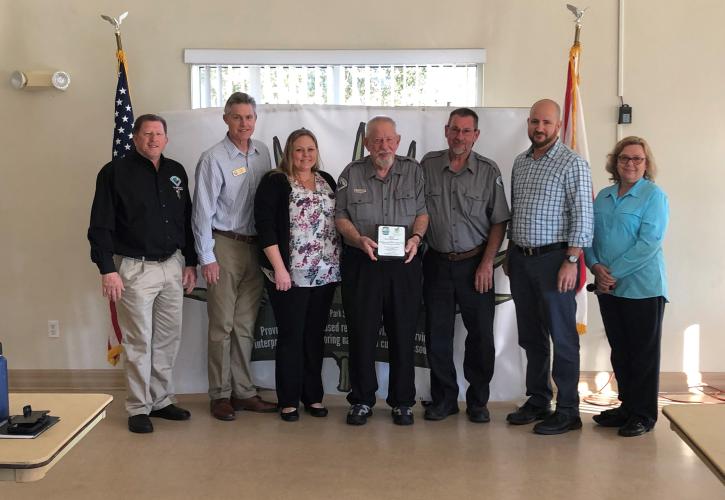 Hillsborough River State Park Preservation Society - 2018 Special Event Award for Exceptional Accomplishment in the Category of Park Resource-based Recreation, Hillsborough River State Park
The Hillsborough River State Park Preservation Society holds the annual Swamp Stomp, which has been featured in several runner's magazines, blogs, and TV shows including the Outsiders Club. The race is held on the parks' fire lines which are some of the best opportunities to view wildlife and experience the "Real Florida." The event increases awareness for a different demographic that typically wouldn't come to the park. Money raised supports future events and park improvements
Close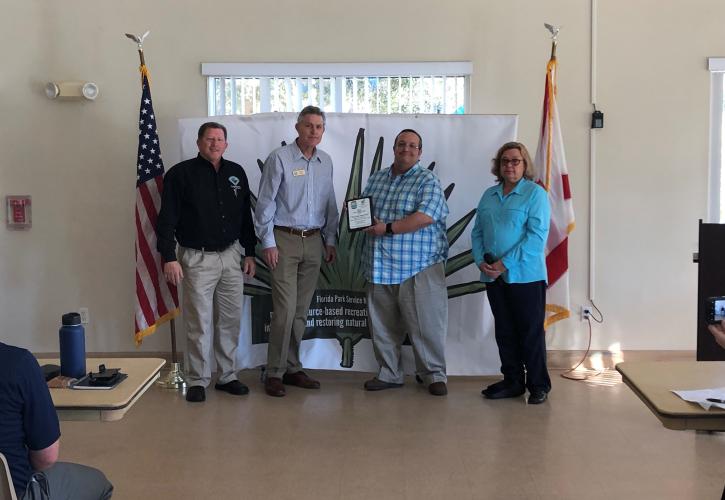 "Lake June Four" - 2018 Team of Three of More Award for Exceptional Dedication in the Category of Park Resource Management, Lake June-in-Winter Scrub Preserve State Park
This dedicated team are the unsung heroes of the park. They are committed to opening and closing the park and maintenance, and work independently with very little support.  They are reliable, trustworthy, vigilant, always keeping the best interests of the park foremost in mind.  Their stewardship has resulted in substantial savings to the Florida Park Service in time and money, and greatly assists the protection of this most important, rare and invaluable acreage. 
Close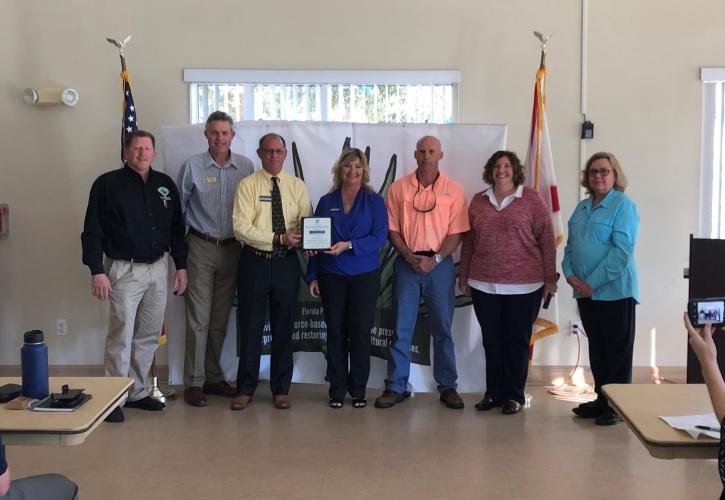 Johnson Engineering, Inc. - 2018 Corporate Excellence Award (15 Years), Lovers Key State Park
Johnson Engineering, Inc. was recognized for the 15 consecutive years of outstanding volunteerism given by employees ti ensure the preservation and well-being of Lovers Key State Park. They have contributed in a number of ways including trail maintenance, walkway re-decking, fence building, and painting.
Close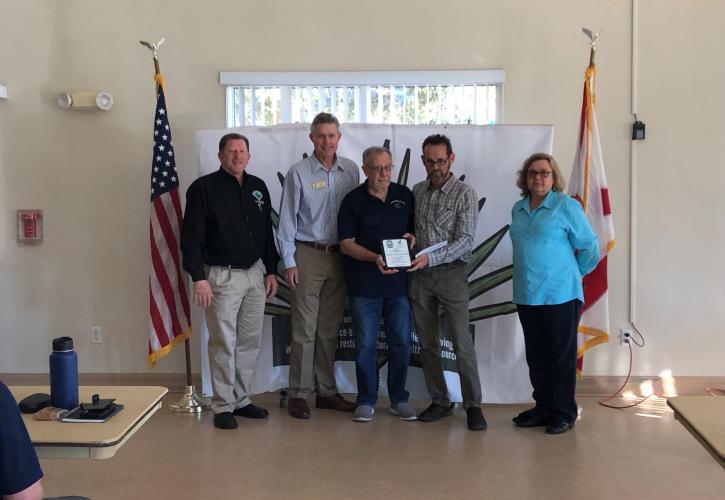 The Friends of Oscar Scherer - 2018 Special Event Award for Exceptional Accomplishment in the category of Park Natural Resource Protection, Oscar Scherer State Park
The friend group recently hosted the 29th Annual Earth Day Festival "Battle of Plastic Pollution." The event was comprised of vendors, exhibitors and special presentations to bring awareness to the impact of plastics on the environment. More than 40 partners and 100 volunteers contributed more than 300 hours of service. Comcast Cares partnered with the park and the CSO to sponsor an ongoing lake restoration. The partnership consisted of native plantings, recruiting volunteers and a reconstruction of the lake's observation tower.
Close
District 5 Award Recipients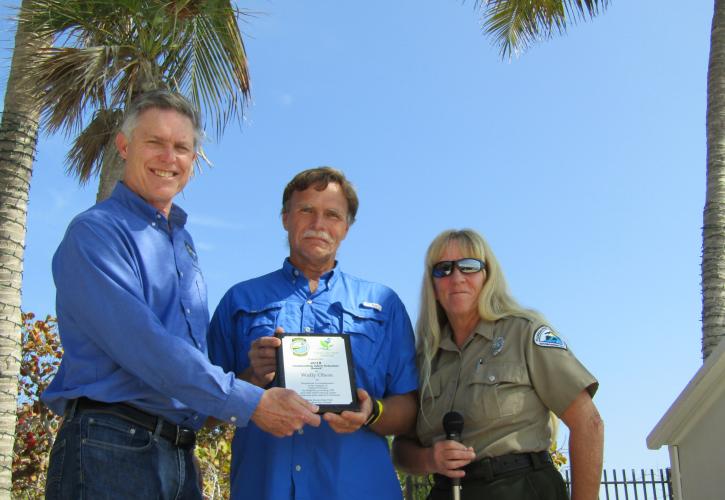 Wally Olson - Adult Volunteer: Protection, Bahia Honda State Park
A retired firefighter and Florida State Parks volunteer since 2014, Wally knows the importance of safety. Whether it's through teaching CPR, to holding multiple safety training sessions so all staff can attend, to simply asking for feedback so he can personally better his skills, Wally is an incredible volunteer and Bahia Honda State Park can always breathe a sigh of relief knowing he's around.
Close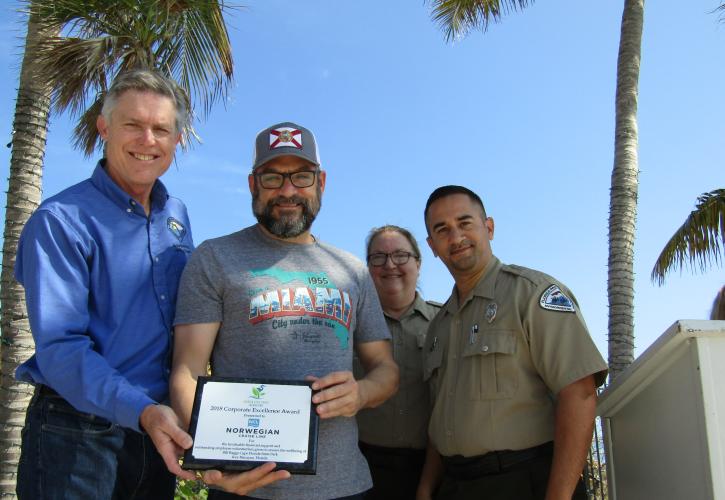 Nelson Fraga - Corporate: Natural - Norwegian Cruise Lines, Bill Baggs Cape Florida State Park
Bill Baggs Cape Florida State Park has had a wonderful relationship with Norwegian Cruise Lines for the past several years. Supplying not only $3000 worth of funding to support the park's monthly beach cleanup, but also volunteers to help maintain the beach and picnic areas of the park, this wonderful relationship has left visitors astounded by how clean the beach is and how much it makes the park stand out.
Close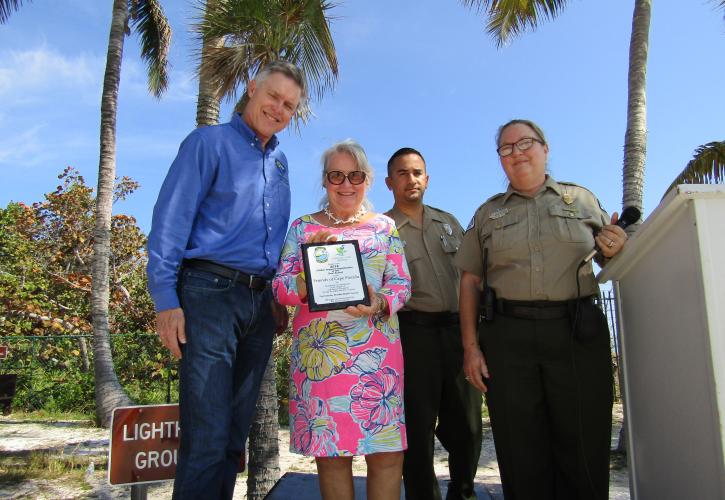 Theodora Long - Citizen Support Organization: Natural - 2nd Saturday Monthly Beach Cleanup, Bill Baggs Cape Florida State Park
The 2nd Saturday Beach Cleanup has blossomed into a well-attended, regular Park activity, growing from 10 participants in 2016 to the 75-200 participants. Support from community partners such as Norwegian Cruise Lines and the Key Biscayne Community Foundation, area schools and civic groups, have made this ongoing activity a huge success that puts Bill Baggs in the public eye through participation in Citizen Science and public education regarding environmental challenges.
Close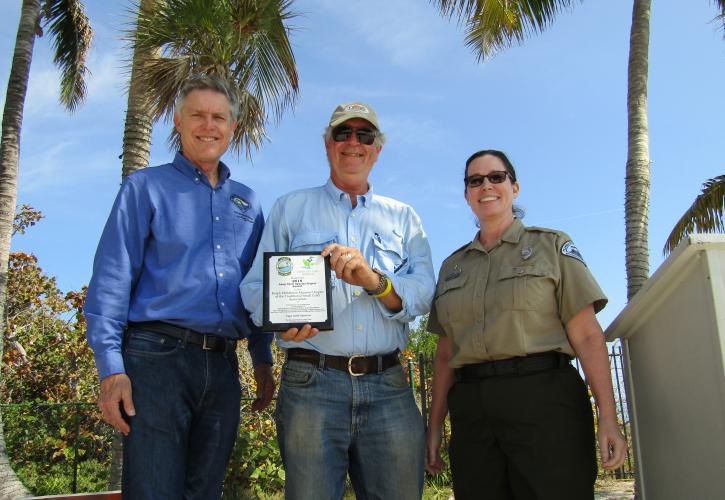 The Ralph Middleton Munroe Chapter of the Traditional Small Craft Association - Long Project: Cultural, The Barnacle Historic State Park
The wonderful team behind the Ralph Middleton Monroe Chapter of the TSCA gave us the slight glimpse into the past this past year with their construction of a 14ft Cape Cod Sharpie Oystering Skiff taken from a traditional 20th century design. The craft was launched on December 8th, 2018, and gave park visitors a glimpse into the past and those that worked on it a sense of pride in themselves, their skills, and the lovely park in which they built the boat.
Close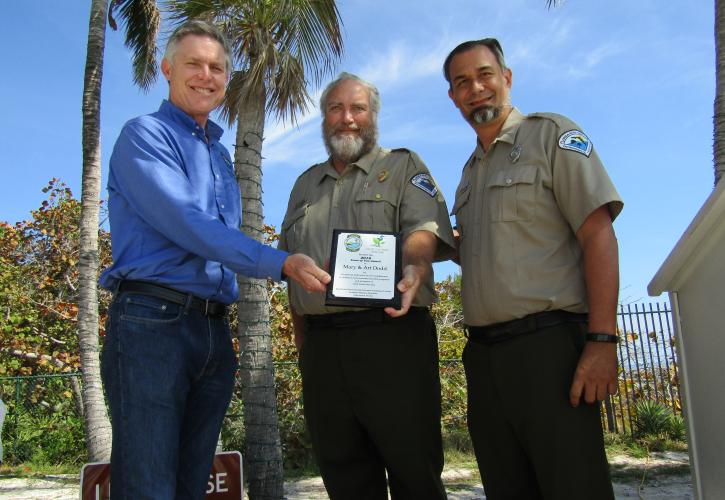 Mary and Arthur Dodd - Volunteer Team of Two, Visitor Services, Jonathan Dickinson State Park
Mary and Arthur Dodd have been volunteering at the Elsa Kimbell Environmental Education and Research Center in the park for almost 10 years and have dedicated over 6,500 hours of their time to the center (Art 3182; Mary 3364). They both work together as a team and individually on projects, but always show their dedication to the parks every day with a positive attitude, the desire to always learn more, and the drive to make every visitor their encounter someone who will be impacted enough to return.
Close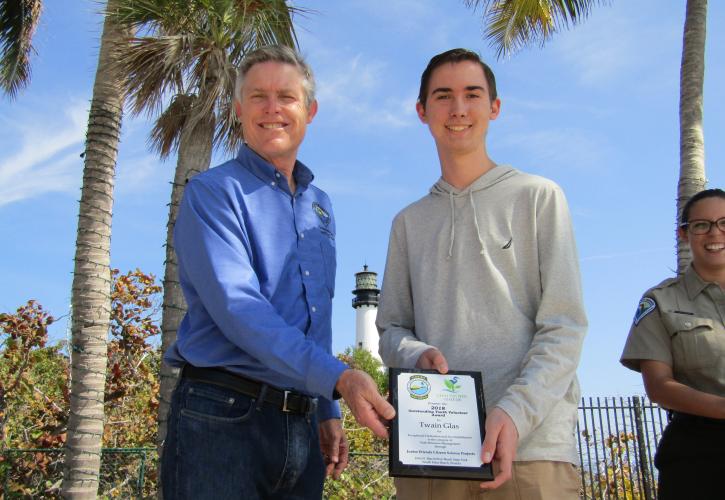 Twian Glas - Youth Volunteer, Resource Management, John D. MacArthur Beach State Park
Twain Glas has volunteered for 5 years at John D. MacArthur Beach State Park, coming in once every month for Junior Friends meetings, and additionally once every week for Citizen Science Data collection. Twain is also one of their Counselors in Training (CIT) during the summer, giving over 80 hours each over the last two summers. In 2018, he was appointed the Chair of Junior Friends. He's volunteered over 100 hours this year alone, and has shown to be the best example as to what the park system can provide for the younger generation.
Close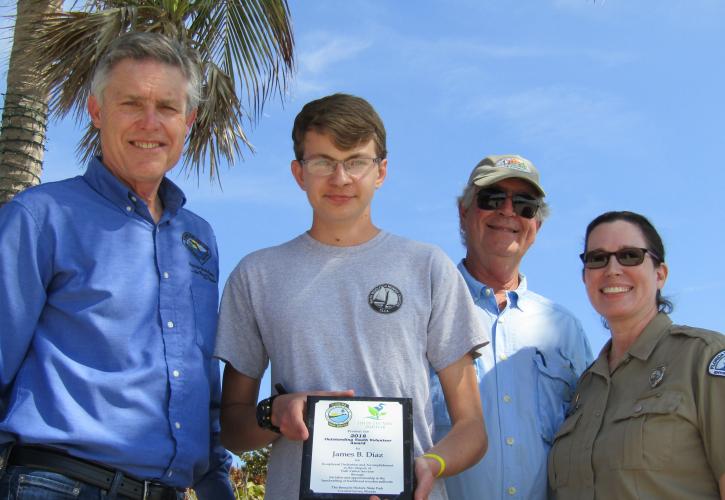 James Diaz - Youth Volunteer, Visitor Services, The Barnacle Historic State Park
Since becoming a volunteer in March 2016, James has served 277.25 hours, and has been faithfully showing up almost every Saturday since, and in that time, he has not only participated in boatbuilding projects but in many other activities as well. He is now a 16-year-old high school sophomore, and it can be said without a doubt that he has been a most dependable volunteer and a great asset.
Close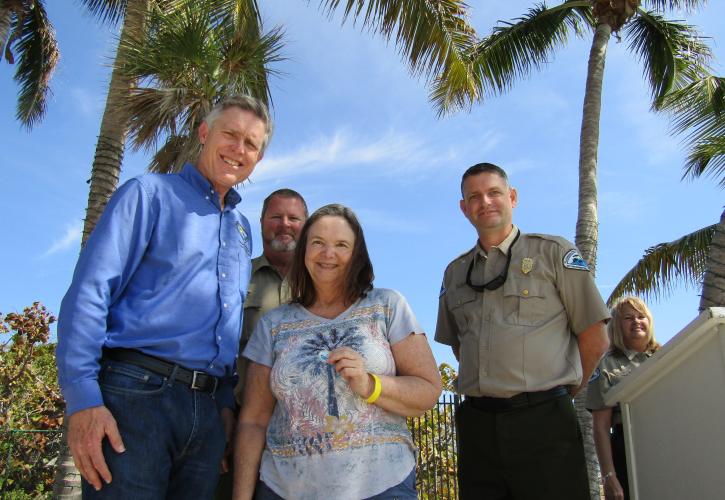 Karen Sunderland - 30 Years of Service, Long Key State Park, Windley Key Fossil Reef Geological State Park, Lignumvitae Key Botanical State Park, Indian Key Historic State Park, Curry Hammock State Park
Karen Sunderland has been a member of the Friends of Islamorada Area State Parks since its inception in 1987. She's kept the Florida Keys State Parks in the spotlight, continuously highlighting the importance of natural and historical resources available to the public, and shoulders the responsibility of supporting 6 of our 175 Parks with gusto!
Close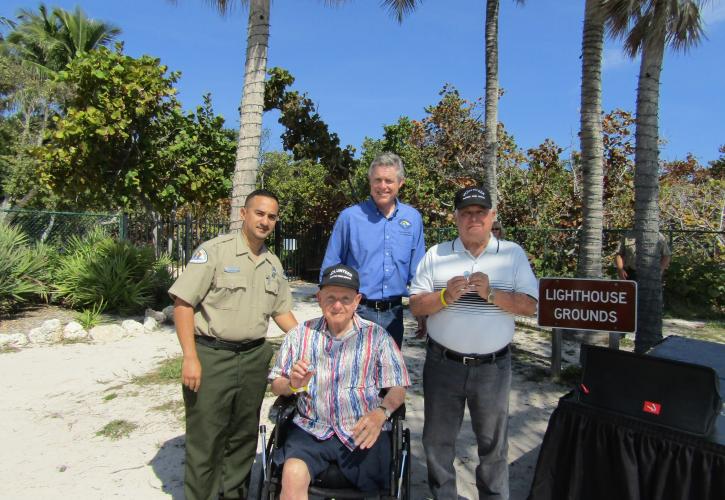 Rubin Orta (pictured right) - 30 Years of Service, Bill Baggs Cape Florida State Park
For the past 30 years Mr. Orta has been cleaning all eight of the fishing platforms and seawall at Bill Baggs Cape FL State Park, which not only keeps all the fishing piers clean but keeps fishing line and other hazards from all the wildlife. This assures the park visitors a very healthy and clean experience, and his 30 years of experience and interpretation talks (and fishing stories) with visitors have left them with a wonderful time and an unforgettable memory with Bill Braggs Cape. His 30 years are an inspiration to all.
Close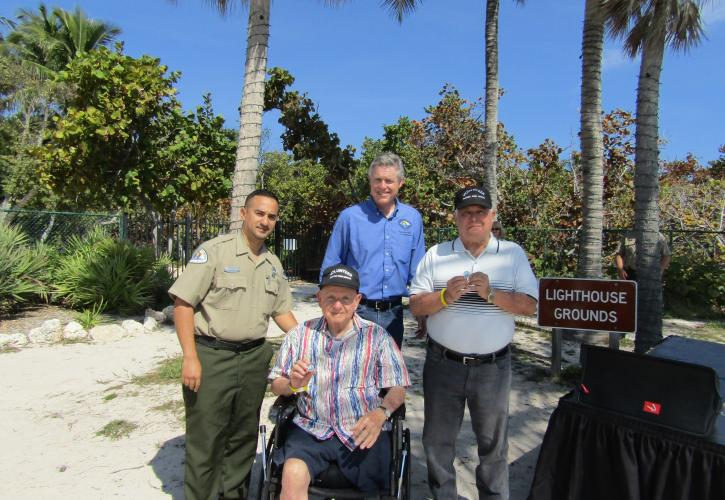 Sammy Alba (pictured left) - 30 Years of Service, Bill Baggs Cape Florida State Park
Sammy Alba has come to Bill Baggs Cape Florida State Park and cleaned the Park's 8 fishing platforms and performed other maintenance tasks each week for 30 years. Over that time, he became friends with one of our other 30-year nominees, Rubin Orta, and has continued to keep the tradition alive today. He's also one for spinning fishing tales to visitors (with the occasional tip) and we thank him for his many years of inspirational service and hope to hear more of his tales in the future.
Close