History of Wreckers on Indian Key
The Florida straits were a heavily used shipping channel during the 19th century. Many ships ran aground on the shallow reef system that dots the coastline. Wreckers would keep a watchful eye on the reef line looking for ships in distress. It was the wrecker's job to rescue the crew and salvage the ship and its cargo.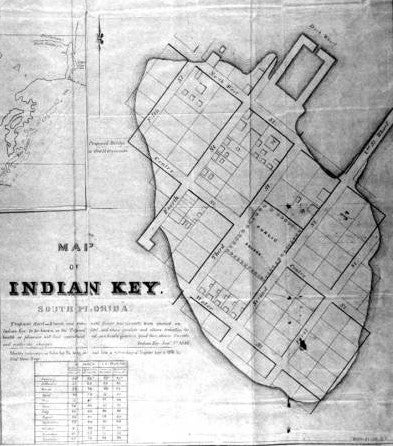 The community of wreckers living on Indian Key in 1830s were ready at a moment's notice to salvage the wrecked ships on nearby reefs. The three-story warehouse topped with a cupola served as a good lookout point to spot grounded vessels on the reef line. The first wrecker to reach the grounded ship would be named the wreck master and would direct the salvaging operations. To lift a grounded ship, the ship's cargo would be off loaded. The salvaged cargo was stored at the Indian Key warehouse until it could be taken to Key West, the closest U.S. port of entry. A federal court would then decide how much the wrecker would be paid for their services (usually around 25% of the cargo's value).
The wrecking community of Jacob Houseman came to an end on Aug. 7, 1840, when Native Americans attacked the island and burned most of the buildings to the ground. Thirteen residents were killed in the attack including noted botanist Henry Perrine.
After the Indian Key Massacre, as it was later called, Indian Key was used by the Florida squadron of the U.S. Navy who built a hospital on the island. Later the island was used as a staging area to build several sailing vessels as well as in the construction of Carysfort Lighthouse and Alligator Reef Lighthouse.
Today, visitors can explore the island through a series of walking paths that re-create the streets of Houseman's community.