Mermaid Stayce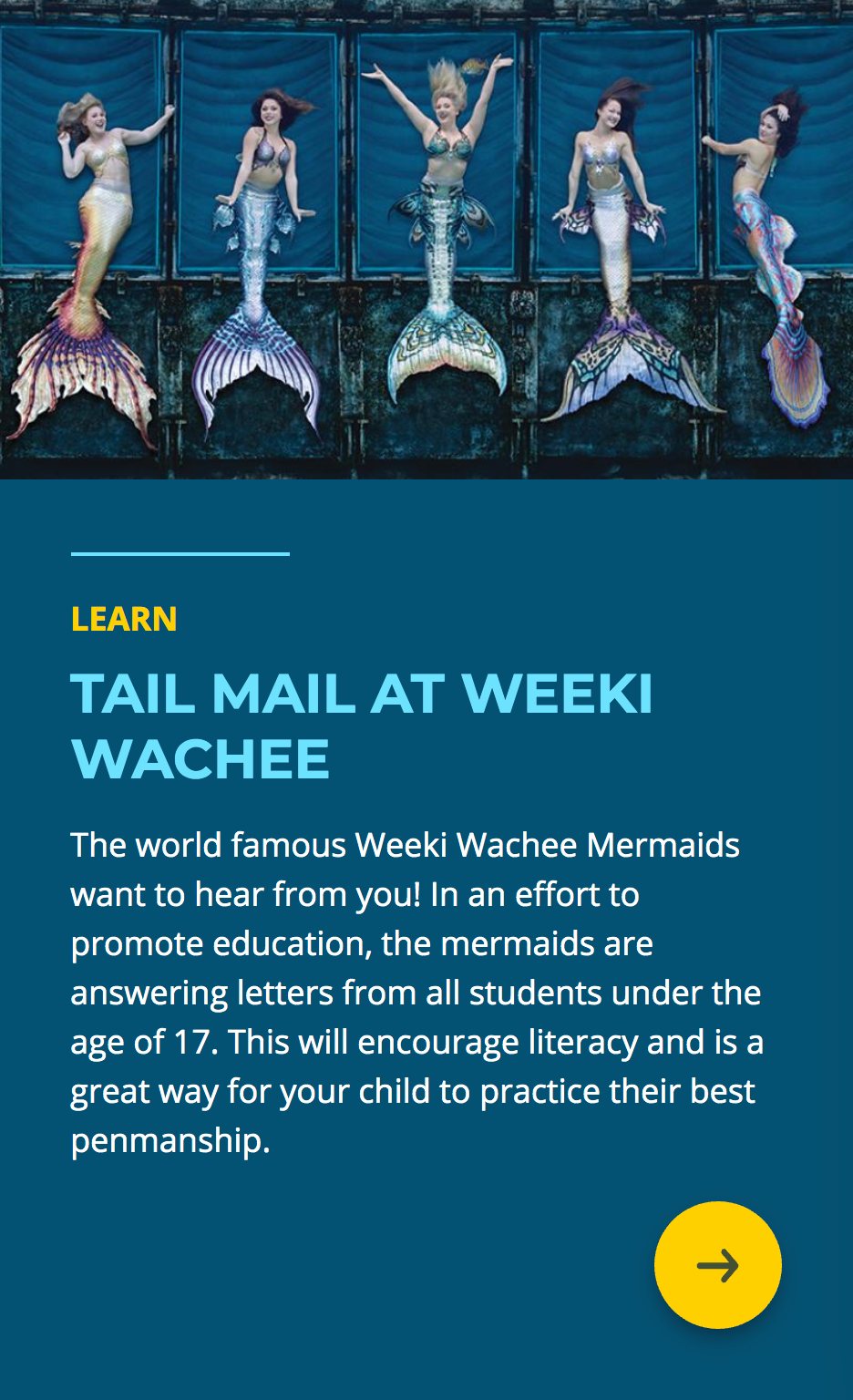 Hometown
Miami, Florida
Favorites
Phone App: Facebook & Candy Crush
Movie: Dirty Dancing
Book: True Blook Series
Holiday: Christmas 
Meal: Pizza! 
Musical Artist: Many favorites. Just as long as I like the song.
Q&A
What is your greatest accomplishment? 
Becoming a Weeki Wachee Mermaid, of course!
Who are two people (past or present) you would like to have dinner with? 
Marilyn Monroe & Elvis Presley
What advice would you have for someone who dreams of becoming a Weeki Wachee Mermaid? 
To follow that dream because it's worth it! Also, swim… a lot!
Who is your celebrity crush? 
What is your dream job? 
What is your guilty pleasure? 
What is your hidden talent? 
I can twist my tongue in both directions.
Where is your dream vacation destination? 
Black Sand Beaches of Hawaii. 
What is your favorite quote? 
"You only live once, but if you do it right, once is enough."
Film/TV Credits
ABC 7 Sarasota, Animal Planet's Mythological Beasts, Bay News 9, Believe It Tour, FOX 13 Tampa, FOX News.com, German documentary, Telemundo's Cara Dia, Univision's Despierta America, WBBH Ft. Meyers, Ripley's Aquarium Myrtle Beach, SC (2008 & 2009), Ripley's Aquarium of the Smokies Gatlinburg TN (2009), Hamish & Andy Australia, Andrew Zimmern's Bizarre Worlds, Visit Florida (2010), AOL News (2010), Sea Life Aquarium London (2010), Ripley's of the Smokies (2010), Georgia Aquarium (2010), Fishing Adventurer Show (2011), Southern Living Magazine (2011), The Amazing Race (2011), RTL German TV Point 12 (2011), ABC News Nightline (2011), Kelly Clarkson video (2012), Jimmy Buffett Tour (2012), Everyday Adventures with Terry Tomalin (2012), Marie Claire Magazine (2012), FOX 13 Tampa Bay (2012), Travel Channel's Cross Country Christmas (2012), Georgia Aquarium (2012), ABC's The List (2013), WFTS ABC Action News (2013), Georgia Aquarium (2013), South Carolina Aquarium (2014), Jimmy Buffett Concert (2014), Full Sail Documentary (2014), Adventure Aquarium (2014), South Carolina Aquarium (2015), Quiet Motion Canadian TV (2015), Newport Aquarium (2015), Wild Travels TV (2016), Voice of America (2016), Black Dot Films (2017), Canal Brazil TV (2017), The Penny Hoarder (2017), Vogue Magazine (2017), Dose Studios (2017), Bay News 9 (2017), Tampa Bay Times (2017). WTSP Channel 10-Tampa (2017), Misfits & Monsters (2017), WMUA Radio-Boston (2017), Floribama Shore (2018), The Mike Huckabee Show (2018), Tampa Bay Times (2018), Kamper Kaylee (2018), FOX 13-Tampa (2018), Sea Life Aquarium Orlando (2018), A Mediocre Time with Tom & Dan Radio (2018), NC Aquarium at Fort Fisher (2019), WFLA Channel 8 (2019), ABC Action News-Tampa (2019), "Grenzelos" German TV (2019)