Mermaid Amanda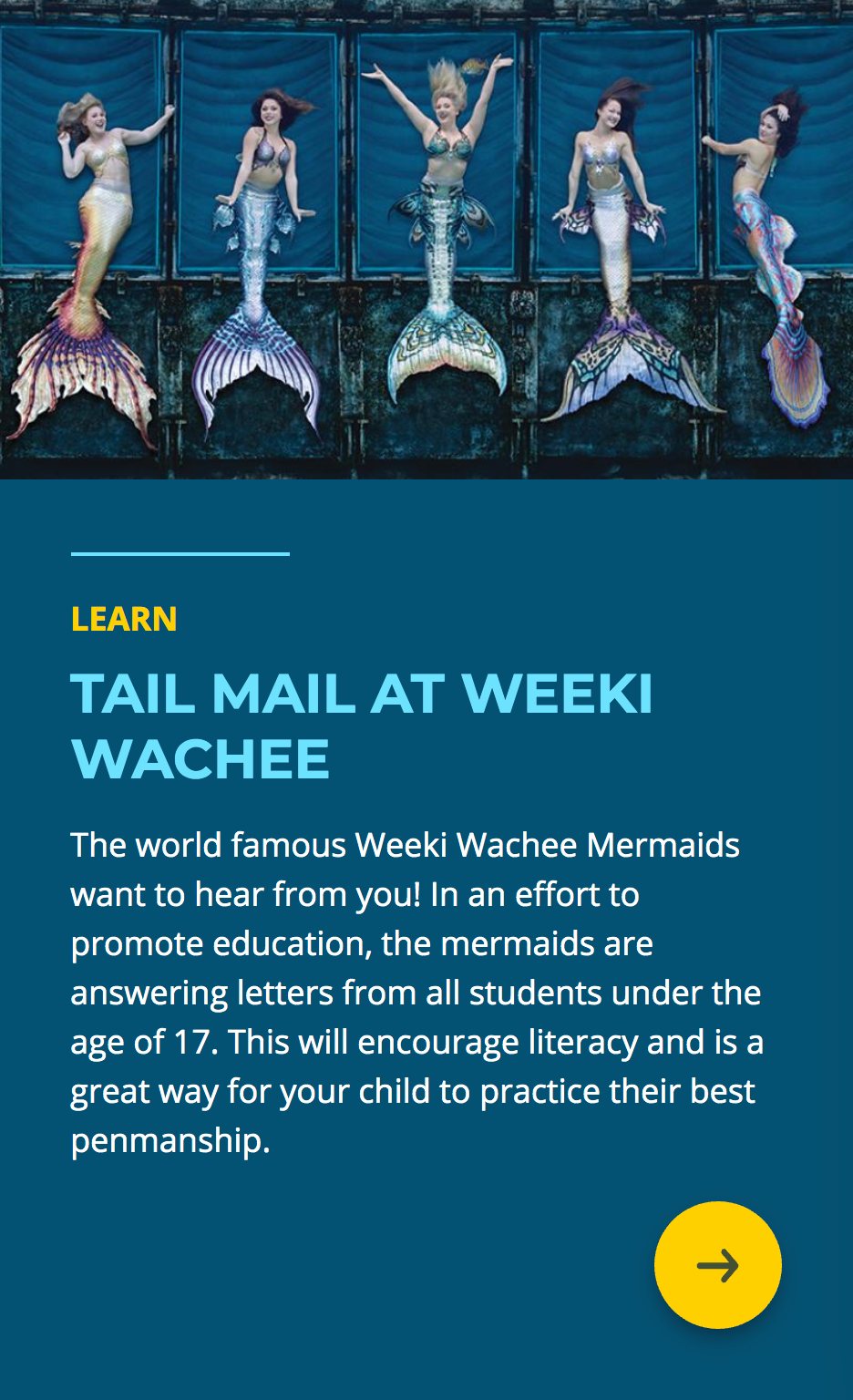 Hometown
New Port Richey, Florida
Favorites
Phone App: Instagram
Movie: Best of Me
Book: Anything by Nicholas Sparks
Holiday: Christmas
Meal: Steak, mashed potatoes, and asparagus-YUM!
Musical Artist: Jonas Brothers
Q&A
What is your greatest accomplishment? 
Becoming an RN!
Who are two people (past or present) you would like to have dinner with? 
Robin Williams and Ian Somerhalder
What advice would you have for someone who dreams of becoming a Weeki Wachee Mermaid? 
Don't give up and never stop smiling, even when there's water up your nose! 
Who is your celebrity crush? 
What is your dream job? 
What is your guilty pleasure? 
Jonas Brothers music and movie theater popcorn 
What is your hidden talent? 
Where is your dream vacation destination? 
What is your favorite quote? 
"I think we got one life, one chance and what we do with it is up to us." - One Tree Hill
Film/TV Credits
Juan Carlos filming (2014), Georgia Aquarium (2014), Finland's Funniest Home Videos (2015), Georgia Aquarium (2014), South Carolina Aquarium (2015), WFLA News Channel 8 (2015), Newport Aquarium (2015), Audubon Aquarium of the Americas (2015), Wild Travels TV (2016), South Carolina Aquarium (2016), Audubon Aquarium of the Americas (2016), Whiskey Cats TV (2017), Black Dot Films (2017), NC Aquarium at Fort Fisher (2017), South Carolina Aquarium (2017), Vogue Magazine (2017), Travel Channel's "Xtreme Underwater" (2017), FOX 35-Orlando (2017), Metrowest Daily News (2017), WFLA/Great 38 TV (2017), Audubon Aquarium of the Americas (2017), Netflix (2018), FOX 13 (2018), ABC Action News (2018), Bay News 9 (2018), North Carolina Aquarium at Fort Fisher (2018), Visit Florida (2018), South Carolina Aquarium (2018), WCBD News 2 (2018), Charleston Scene (2018), Floribama Shore (2018), The Mike Huckabee Show (2018), SEA LIFE Aquarium Orlando (2018), WKMG-TV Orlando (2018), Orlando Sentinel (2018), Tampa Bay Parenting Magazine (2019), FOX 13-Tampa Bay (2019), CBS Sunday Morning (2019)