Florida State Park Beaches Listed Among Best
Every year, Dr. Beach ranks the best beaches in the United States. In 2021, two of Florida's beaches made the list.
The beaches at Dr. Julian G. Bruce St. George Island State Park (No. 4) in the Panhandle and Caladesi Island State Park (No. 7) in Dunedin, just north of Clearwater, have been included in Dr. Beach's annual ranking of the Top 10 beaches in America. Grayton Beach State Park near Santa Rosa Beach won the title of best beach in 2020.
Dr. Stephen P. Leatherman, better known as Dr. Beach, is the director of the Laboratory for Coastal Research at Florida International University in Miami. His Top 10 rankings are based on scientific studies of the shore and its environment. He has been ranking the nation's top beaches for 30 years, and Florida's beach parks have consistently been featured.
Whether you enjoy long walks on the beach, collecting shells, building sandcastles, swimming, canoeing or kayaking, or soaking up the sunshine, these three beaches are among the best in the nation.
About Dr. Julian G. Bruce St. George Island State Park
Sunshine, stargazing and miles of undeveloped beach are what you'll find at Dr. Julian G. Bruce St. George Island State Park. Sugary white sand beside blue waters create an idyllic setting for spending time on the beach. The remote location of this park means seeing stars, planets and other celestial bodies is a real treat.
The park offers a 60-site campground with electricity, water hookups and picnic table. While there are no views of the Gulf of Mexico from this campground, you can sometimes hear the waves hit the nearby shore. Reserve your spot by visiting the reservations website or by calling 800-326-3521 or TDD 888-433-0287.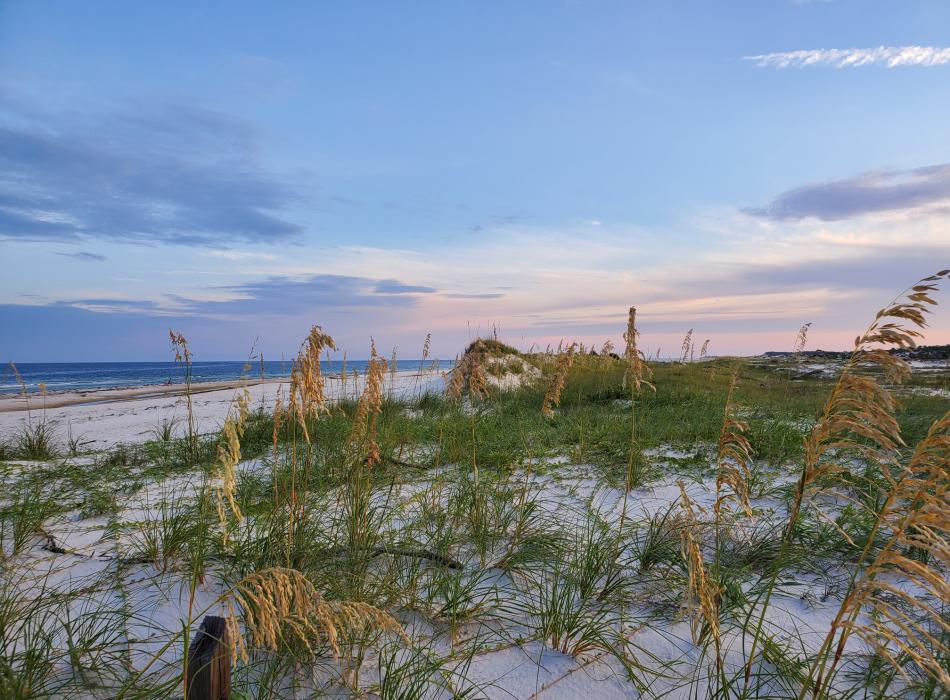 Sea oats protect the dune at Dr. Julian G. Bruce St. George Island State Park.
About Caladesi Island State Park
Visiting Caladesi Island State Park is a treat. You can reach the island only by boat – your own – or on a 20-minute ferry ride from Honeymoon Island State Park. As a barrier island, Caladesi Island offers an opportunity to walk the pristine beach, build sandcastles and swim in clear, aqua blue waters. A small café sells food and drinks on the island. 
A marina with docks is available for day visits by boaters. If you want to spend the night on your boat, reservations can be made at the marina office or online on our reservations page or by calling 800-326-3521 or TDD 888-433-0287. Camping is not available on the island.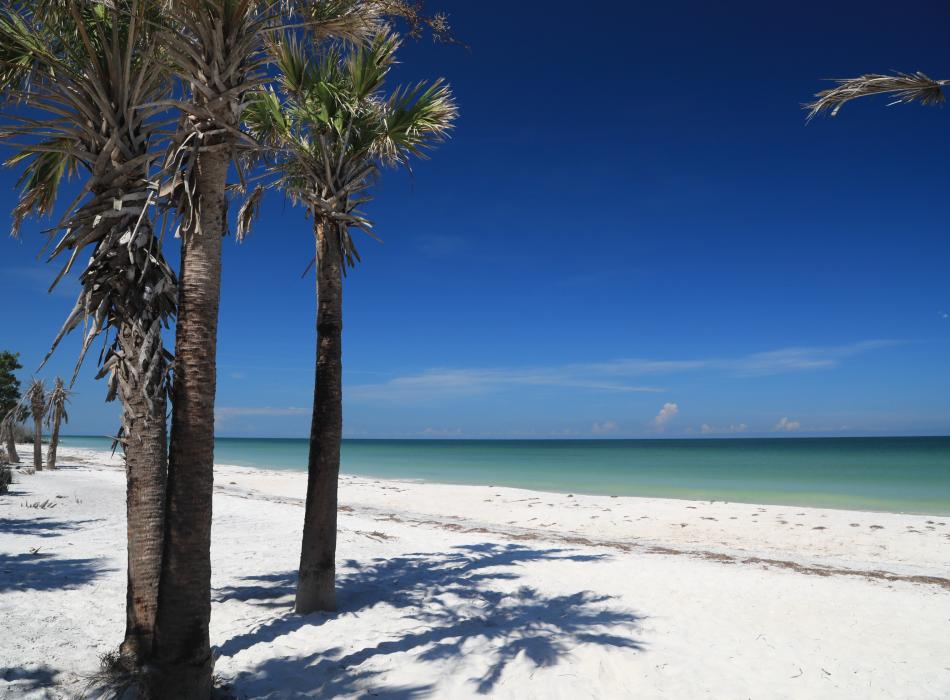 Palm trees on the beach at Caladesi Island State Park.
About Grayton Beach State Park
Grayton Beach State Park is more than a backdrop for stunning sunsets and a beautiful beach. The park also offers four miles of hiking trails and fishing or paddling on Western Lake.
The park offers vacation cabins and a 59-site campground. Getting a camping or cabin reservation at this very popular park can be challenging. Reservations can be made up to 11 months in advance. Visit the Florida State Parks reservations website or call 800-326-3521 or TDD 888-433-0287.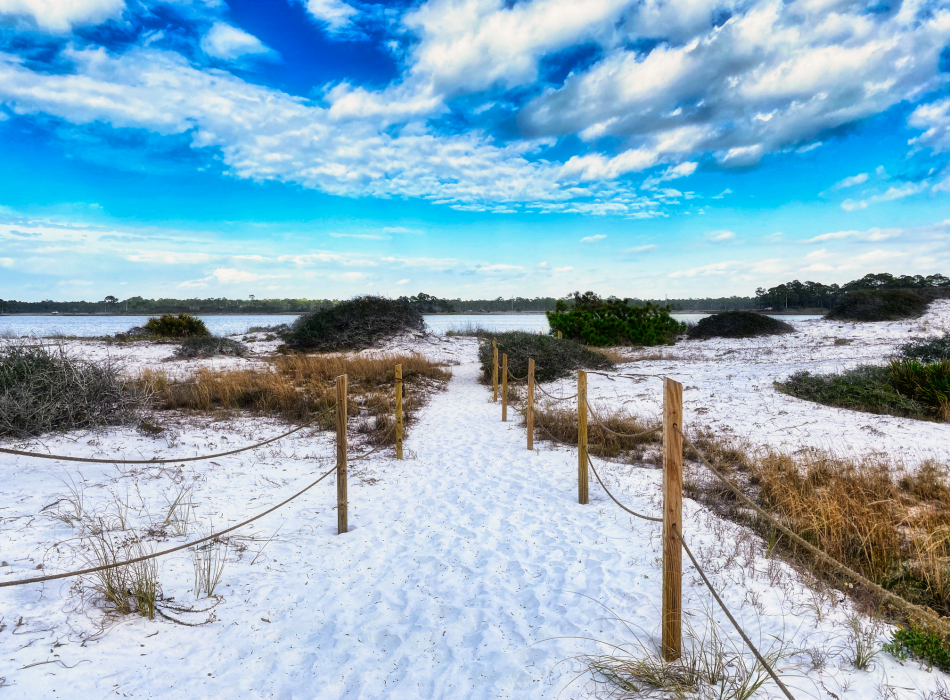 Ropes define a path through the dune to the beach at Grayton Beach State Park.
Sharing the Beach
Florida State Parks has 100 miles of the beaches around the state.
Visitors share the beach with nesting and resting shorebirds that forage for food at the water's edge. Disturbing shorebirds and seabirds can force mother birds to leave their nests, which allows other species to harm the eggs and baby birds.
Sea turtles come ashore, usually at night, to lay their eggs. About two months later, hatchlings emerge from the underground nests as they make their way back to the ocean or Gulf of Mexico. If you build sandcastle or dig holes, be sure to fill them in at the end of the day so the sea turtles won't fall into the holes. If you walk on the beach on night, stay clear and out of sight of the turtle; otherwise, you may scare her.
---
This article was published in the Real Florida ℠ Connection, the Florida State Parks e-newsletter. Sign-up to get updates and stories from your state parks the first week of every month.