2020 Florida Conservation Corps Team
In January 2020, 65 people entered service in the Florida Conservation Corps, which operates as an AmeriCorps National Service Program.
Each member agreed to serve for 1,700 hours, gaining hands-on experience and training in exchange for a monthly living allowance, eligibility for health insurance, childcare assistance and student loan forbearance options. Serving at various state parks around Florida, each member joined one of three project areas: Project A.N.T. (AmeriCorps Non-native plant Terminators), Project R.O.A.R. (Regional Outreach and Awareness Recruiters) and Project T.R.E.C. (Trail Restoration and Enhancement Corps).
Throughout 2020, members worked diligently on their projects at Florida's state parks. Project A.N.T. members braved the heat and humidity to treat invasive plants, exotic plants that harm our native species by taking up space and nutrients. Project T.R.E.C. members traveled to different state parks restoring and maintaining trails to ensure our visitors can hike, bike and horseback ride in our parks safely.
Project R.O.A.R. members worked to educate park visitors and community members about our natural and cultural resources, while promoting the AmeriCorps program and recruiting volunteers for our parks. All in all, these members have shown why the Florida Conservation Corps is so essential to the mission of the Florida Park Service.
Hurricane Recovery Assignment
In addition to their regular duties, twenty members chose to serve on the AmeriCorps Disaster Response Team (A-DRT). Given specialized training, these members could be called upon to assist with storm recovery anywhere in the state. In November and December, the A-DRT team was deployed in three teams to assist with recovery efforts in Pensacola from Hurricane Sally. They completed 23 work orders, which included placing temporary tarps on roofs, hauling away debris and removing hazardous trees from property.
Though the work was difficult, the homeowners they helped were grateful for their assistance. These members are shining examples of the values and dedication we strive for in the Florida Park Service.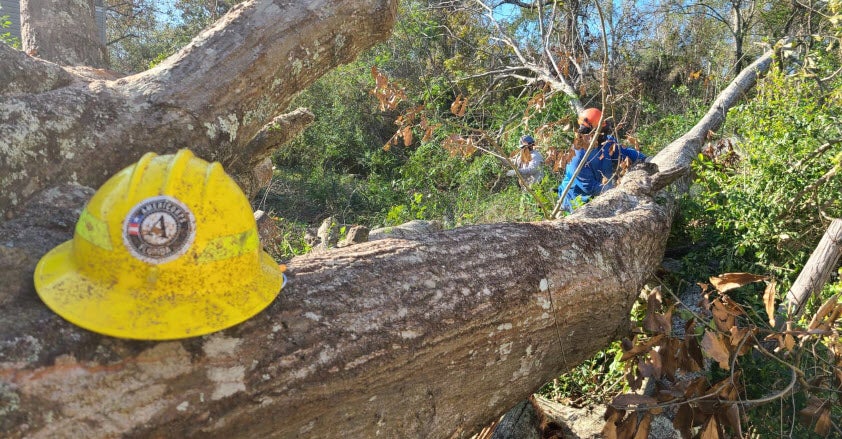 Completing the Program
On Dec. 15, 43 members of the 2020 Florida Conservation Corps completed their service. A virtual graduation ceremony honored each member. R.O.A.R. member Marrietta Partrick was recognized for going above and beyond for national service. She found her niche creating interpretive videos to keep visitors engaged even outside our parks.
A.N.T. members Sydney Whitlock and Allison Callis were recognized for winning a friendly competition among members called Serve Outside September and Outreach October, which involved creating virtual outreach events and interpretive programs that related to the Florida Park Service, the FLCC and AmeriCorps. T.R.E.C. team member Megan Greene shared her story of service and A.N.T. member Joshua Chan shared seven tips for staying grounded and being inspired by nature.
Congratulations were shared by Corey Simon, the chief executive officer for Volunteer Florida, and Wes Howell, the chief of the Bureau of Natural and Cultural Resources for the Florida Park Service. Eric Draper, Director of the Florida Park Service, encouraged members to think of the FLCC as a stepping stone to bigger and better experiences where they can continue their legacy of environmental stewardship. We want to wish all of our graduating FLCC members good luck in the future and thank them for their service in 2020!
Are You Interested in Joining in 2021?
Do you know someone who might be interested in joining the program in 2021? Joining the team is a great way to launch a career in natural resource management, state parks and with other land managers.
It's time to apply for the 2021 program year! Applications are available on People First and will be open through January 2021.
You can also apply via the AmeriCorps website:
For more information, contact Lauren.T.Natwick@FloridaDEP.gov or email FLCC@FloridaDEP.gov.