Trapper Nelson Interpretive Tour
When
Monday, April 1, 2019 10:00 am - 4:00 pm

EDT
Directions
Trapper Nelson Interpretive Site
Fees
$6 park entry and additional boat tour fee.
Contact the park concession for more details about boat tours, 561-746-1466.
Description
The 60 passenger Loxahatchee Queen III takes visitors on a one-and-a-half-hour tour of the river, with a stop at the restored 1930s camp of Trapper Nelson, the "Wildman of the Loxahatchee."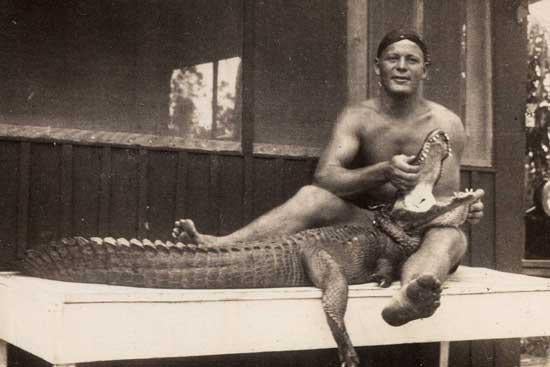 At the site, park staff lead visitors around the grounds and buildings of a true Florida original, who made his living off the land as a trapper and fur trader. Once fame caught up with Trapper, however, he evolved himself and his home into one of the area's first tourist attractions, "Trapper's Zoo and Jungle Gardens." Trapper's unsolved death in 1968 gives a fitting sense of mystery to the site.
A visual interpretation of Trapper's is available at the Visitor's Center, on the Loxahatchee Queen, or on site by request. A gently sloped and wheelchair friendly sidewalk leads to a small pier to the boat dock; passengers must be able to get onto the pontoon boat without a wheelchair. A beach wheelchair is also available for use on site with advanced noticed. Please contact the Ranger Station, 772-546-2771, or the Kimbell Center, 561-745-5551 for more information.
Trapper's is open 9:30 a.m. to 4:30 p.m., 7 days a week (schedule may vary throughout the year), and is accessible only by canoe, boat or by the tour boat.
Contact
libby.reinert@dep.state.fl.us